Anglian Water apologises over Milton Keynes flooding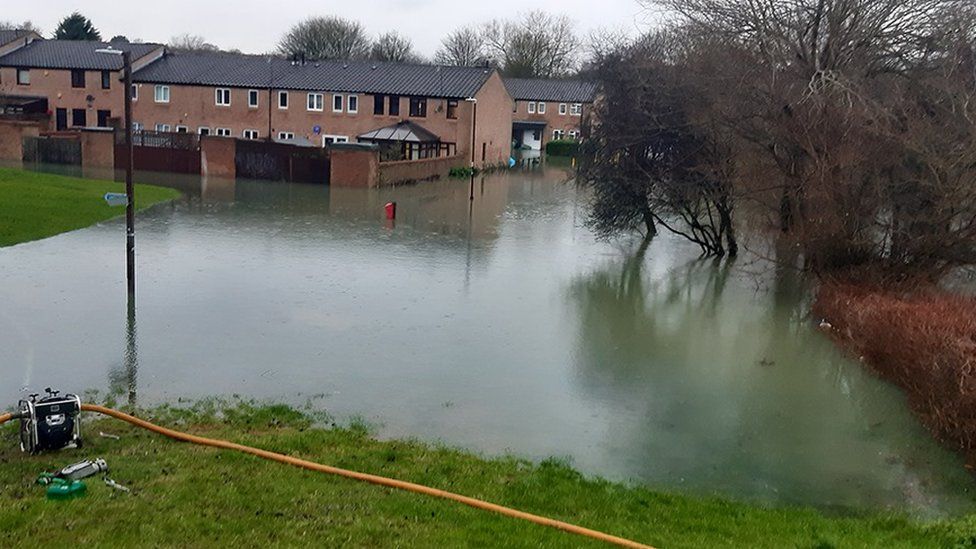 A water company said it was "genuinely sorry" over a burst main that flooded three streets, affecting some 50 homes.
It happened in the Downs Barn and Downhead Park areas of Milton Keynes at about 09:00 GMT. Fire crews said the leak had created a body of water about "25m wide by half a mile long".
Anglian Water said it would offer alternative accommodation, if needed, and pay for any damage.
One woman said when she opened her door it was "like a tidal wave coming in".
Tina Plummer said: "I woke up at half-four this morning and I could see like a river coming down so I phoned Anglian Water".
She said that after she opened her front door, her husband "had to drag me through the window because there was no way we could open the door again".
"I'm pretty devastated because my daughter and her boyfriend and my granddaughter had been coming to stay with us but obviously that's not going to happen now."
Firefighters said some homes were flooded to a depth of 1ft (0.3m).
Anglian Water said four homes had been "severely affected" by the flooding.
A spokeswoman said: "Clean-up teams are already on site helping those affected and offering alternative accommodation if needed.
"We are genuinely sorry for any inconvenience this has caused. Rest assured we will pick up the cost for any damage and our teams will continue working to get things back to normal as quickly as possible."
Ground-floor electricity was switched off in some properties and residents were advised to stay on the first floor.
Fire crews said they pumped water out of the affected properties and were able to leave the scene by 16:00 GMT.
Milton Keynes Council said its staff were checking on residents.
Related Internet Links
The BBC is not responsible for the content of external sites.