Covid: 'Sickest' patient makes remarkable progress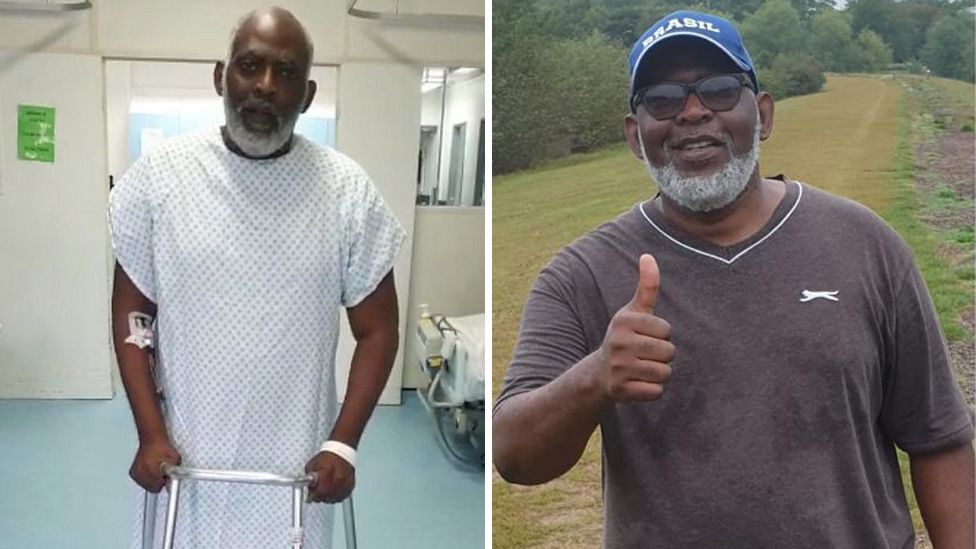 A Covid patient whose wife was warned nothing more could be done for him has gone on to make "remarkable" progress.
His consultant said he was "managing exceptionally well" with his recovery, which has included a daily walk of up to 8km (five miles).
"It has made me appreciate the moment," he said.
"It has become a message that I share with people. You can be here today and gone tomorrow.
"To that degree I have learned a lot from this, and also the NHS and the angels who walk there, everyone was so kind."
Mr Ajala, 59, said he had initially noticed his voice "going" while giving a church service via videolink soon after lockdown began.
His symptoms worsened while he was self-isolating and he was admitted to hospital, where he was placed in an induced coma.
His wife, Esther, was told he was the hospital's sickest coronavirus patient and was too ill to be transferred to a specialist unit.
Nonetheless, he became more stable, responded to treatment and was discharged in May.
'Like remembering a dream'
"Initially I was very tired, I could manage most things and I would go for a short walk, but I had to give in when my body had had enough," said Mr Ajala.
"As August was approaching I willed myself into doing more and that's when I started walking six, seven, sometimes 8k a day.
"Because of my experience I don't push myself too hard and if I feel slightly achy, I rest it out."
His critical care consultant Dr Hamid Manji recently met Mr Ajala and told him he had suffered a "very significant critical illness" and had recovered "remarkably well, both psychologically and physically".
"I don't have nightmares or flashbacks, or memory loss - I can remember becoming ill and I can remember being in hospital," said Mr Ajala.
"It's like waking up in bed and remembering a dream," he said.
He has been working again since June, delivering weekly sermons, and said the way people had responded to his illness was "amazing".
"People I didn't know had heard a pastor was in intensive care and prayer groups and networks got in touch - it was overwhelming.
"There has been a lot of human kindness."
Related Internet Links
The BBC is not responsible for the content of external sites.