US radio station signs Hertfordshire's 'one listener' shed DJ Deke Duncan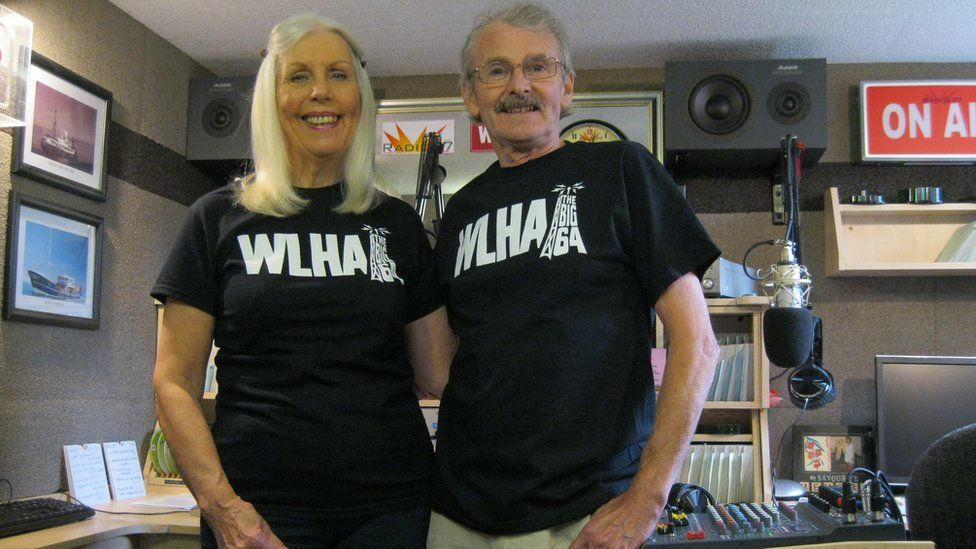 A DJ who featured in a 1970s BBC TV report about his "one listener" radio shows broadcast from his garden shed to his wife in the house has been signed by a US radio station.
Deke Duncan, 75, was filmed by BBC Nationwide in Hertfordshire 40 years ago, and he will now broadcast on Wisconsin's WLHA Radio from Sunday.
"I'm living the dream, still," he said.
"I'm really thrilled about it - join me for a cheerful earful every Sunday."
Inspired by pirate station Radio Caroline, Duncan started playing records from his back garden in Gonville Crescent, Stevenage in 1974, and still does it from his home in Stockport, Greater Manchester.
He set up Radio 77, but with no licence, the station could only be sent to a speaker in his living room to wife Teresa - his only listener.
In 2018, the film was tweeted by BBC Archive and BBC Three Counties Radio found him in Stockport, Greater Manchester, where he was still presenting to one listener on Radio 77 - his second wife Pamela.
WLHA AM is operated by University of Wisconsin alumni who studied there in the 1970s and 1980s.
Duncan said his show, which can be heard online at 16:00 BST, would be "exactly like Radio 77 that I've been doing for nearly 50 years".
Programme director, Kevin "Casey" Peckham said he was "truly delighted" Duncan had joined the team.
"Deke's finely-honed talent for doing upbeat, fast-paced, and imaginative radio in the style of great radio of the 1960s and 1970s is a perfect fit for us," he said.
"We recognized [him] as a kindred spirit who shared our own passions for radio as it existed decades ago."