'Banjo-playing Victorian prostitute' Lady Meux's rare gun sold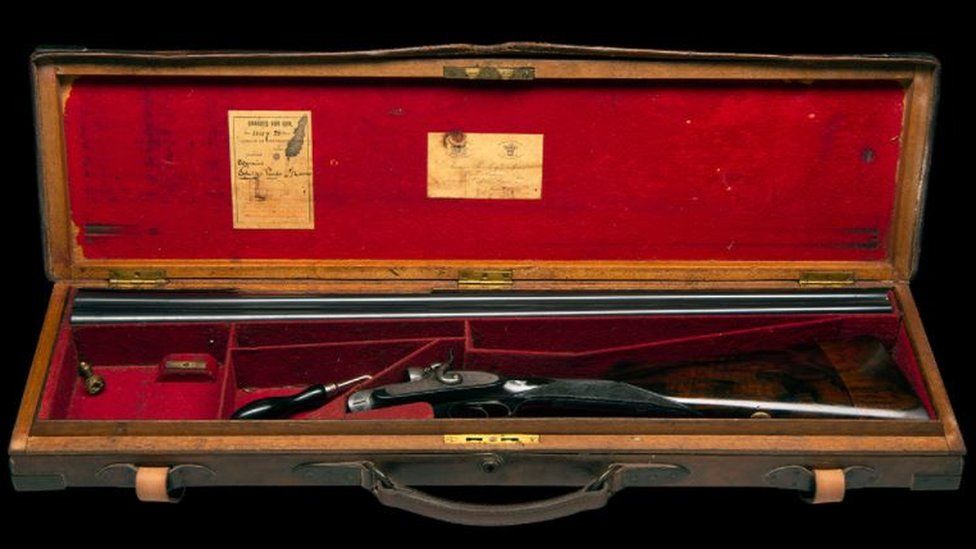 A gun belonging to a "banjo-playing prostitute" who married into the Victorian aristocracy has sold for more than £15,000 at auction.
The "eccentric" Lady Valerie Susan Meux reportedly travelled around London in a carriage drawn by zebras, Holts Auctioneers in Norfolk said.
Her "rare" 28-bore hammergun was made in 1882 and the case is inscribed with her name and Hertfordshire address - "Theobald's Park, Waltham Cross".
It sold for three times its estimate.
Born in 1847, Lady Meux married London brewer Sir Henry Bruce Meux and moved to his Hertfordshire estate.
She claimed to have been an actress prior to her marriage, but accounts imply that she worked as a banjo-playing prostitute and barmaid under the name of Val Reece at the Casino de Venise in Holborn, where she is believed to have met Sir Henry, the auction house wrote in its catalogue.
It also stated that "she was known to drive herself around London in a sporty open carriage drawn by a pair of zebras".
She revamped her Hertfordshire home, installing both an indoor pool and a roller-skating rink, and was a keen collector of Egyptian antiquities.
The socialite sat for three paintings by the artist James McNeill Whistler and a print of one of those was sold with the shotgun.
The lot was estimated at between £3,000 and £5,000, but sold for £15,500.
Holts Auctioneers' shotgun specialist Nick Bongers de Rath said there was "a lot on interest in this" with bids coming in from Australia, South Africa, the USA, Australia and Europe.
However, the final bid came from an undisclosed UK buyer.
Related Internet Links
The BBC is not responsible for the content of external sites.