Joy Morgan: Murdered student 'may have been given drugs without knowing'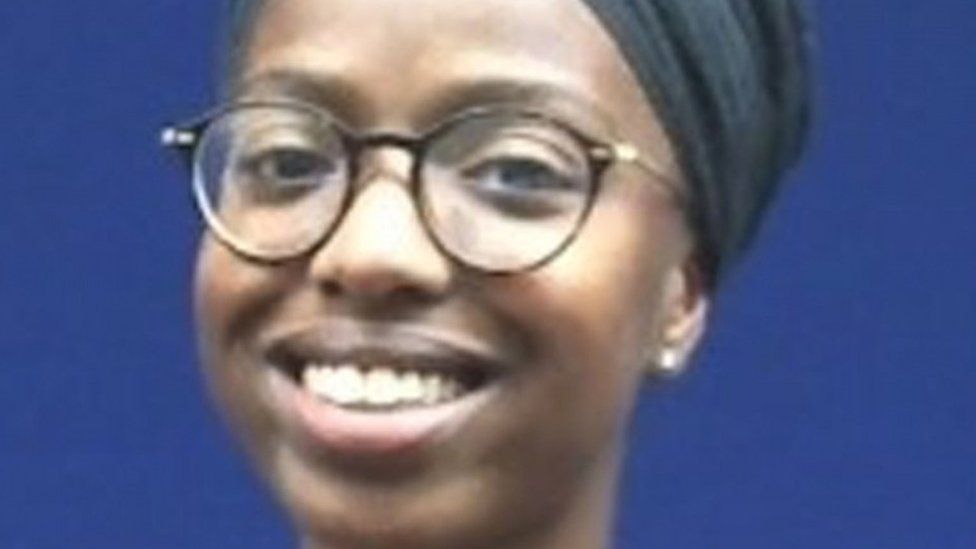 A student murdered by a fellow church member may have been given drugs without her knowing, an inquest heard.
The body of Joy Morgan, 20, was found in Hertfordshire woodland in October 2019, two months after Shohfah-El Israel was convicted of her murder.
Traces of MDMA were found in her body and the inquest was told there was no evidence that Ms Morgan would have taken the drug herself voluntarily.
A coroner recorded a conclusion of "unlawful killing".
Israel, of Fordwych Road, north-west London, was jailed for life and ordered to serve a minimum term of 17 years for Ms Morgan's murder in August 2019, despite the fact her body had not been found.
During sentencing, Judge Michael Soole said Israel's "cruel and cowardly" refusal to reveal her whereabouts caused "continuing distress and suffering" to her family.
Two months later, the remains of Ms Morgan were found in woodland off Chadwell Road, Norton Green, near Stevenage.
Part of the police evidence showed the killer had been in the area of the woods shortly after Ms Morgan's disappearance in December 2018.
She was reported missing on 7 February 2019 after failing to return to her studies.
Both Israel and Ms Morgan, who was in her second year at the University of Hertfordshire studying midwifery, were worshippers at the Israel United in Christ Church in Ilford.
An inquest at Hatfield Coroner's Court heard her body was found badly decomposed, and wrapped in black plastic bin liners and gaffer tape.
The court heard toxicology tests showed MDMA in her body, and Det Insp Justine Jenkins said there was no evidence to indicate she would have voluntarily or knowingly taken illegal drugs.
"She was a church-goer, there is nothing to suggest [she took drugs] at all.
"We did, however, find MDMA in Israel's car, and it is likely that he was responsible for giving her these drugs."
Forensic pathologist Dr Charlotte Randall said there were three possible minor bruises on Ms Morgan's limbs. She added there was no evidence that Ms Morgan had been stabbed or shot, or restrained or suffered injuries consistent with a sexual assault.
She found evidence of a possible fracture to her hyoid bone, but there was nothing to suggest she had suffered compression of the neck.
Dr Randall said there was no evidence the student had suffered a head injury, but said she could have been rendered unconscious by a blow to the head that was "non-fatal".
She could not rule out suffocation as a cause of death, potentially following milder blunt force trauma to the head.
Coroner Geoffrey Sullivan said: "[The MDMA] is not something that she would have taken and one can't exclude that she was given that, and it in some way rendered her incapable or unconscious."
He said the cause of Ms Morgan's death could not be ascertained.
After the inquest, her mother Carol Morgan described her daughter as "an amazing person".
"She's been cremated, I haven't decided where to put her ashes so at the moment she's still at home with me," she said.