Anthony Joshua: Boxing champion surprises his former school with PE lesson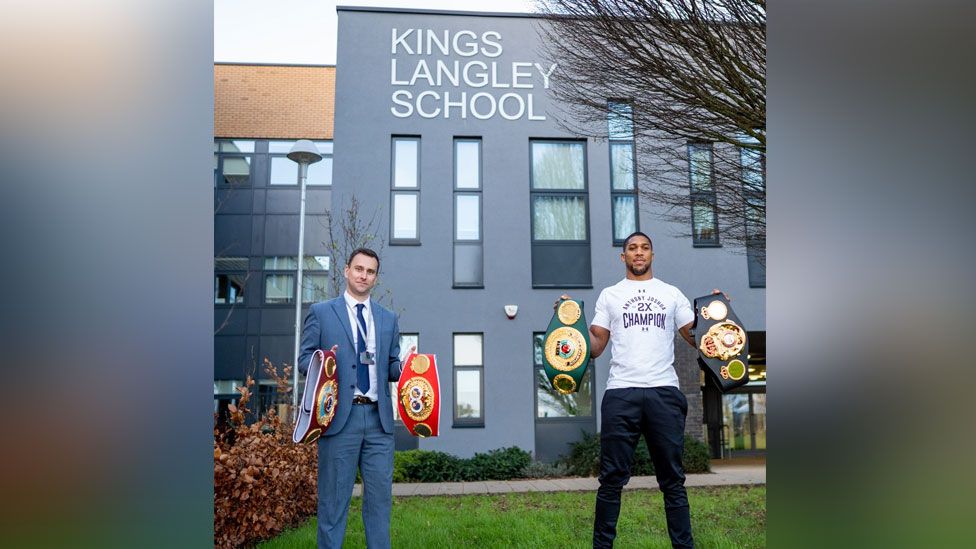 Secondary school pupils were knocked out to find their remote-learning PE teacher was the world heavyweight boxing champion.
He told them it was "important to keep yourself active" during lockdown.
Head teacher David Fisher said it had "kicked [their remote learning] up to a new level".
Mr Fisher said after the last lockdown, the school realised the children had got unfit.
He said they "wanted to keep routine and structures and keep fitness up" and decided to introduce high intensity PE lessons.
"We make sure they wear their PE kits as we want to normalise things... it doesn't matter where you are, you are still in school," he said.
"Anthony's team reached out to the school and we worked closely together to make this happen and do a bit of teaching and tell the students how easy it was to be active at home."
When the boxer agreed, Mr Fisher said they snuck him into the school to keep it a secret and spent a day recording some videos.
Joshua joked in the videos that Mr Fisher had employed him as a teacher and that he had tied Joe Wicks up in a corner.
He said he would give them a workout plan that was "something simple and straightforward" before motivating the students to exercise.
"I know how tough it is right now for you guys at home, I know you're doing all your lessons live, I commend you, I know it's not easy but your commitment will pay off," he said.
"But it's also important to keep yourself active, keep the mind active and keep the body active."
Mr Fisher added: "I believe in keeping things positive and keeping things fresh, keeping routine and keeping structure and AJ really connected with what we were trying to do.
"We've had a unanimously brilliant reaction to our live lessons anyway and this helped to kick it on another level."
Related Internet Links
The BBC is not responsible for the content of external sites.