Leon Briggs: Witness 'traumatised' by death of man held by police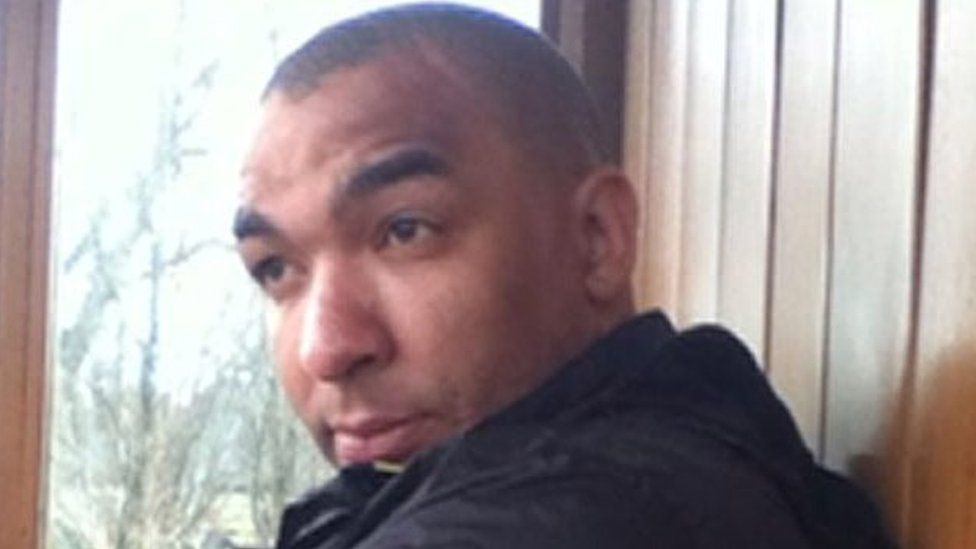 A woman who called 999 for a man who was having a "nervous breakdown" said she felt "traumatised and depressed" after learning he had died after being restrained by police, an inquest heard.
Leon Briggs, 39, died in November 2013 after being detained under the Mental Health Act at Luton police station.
Maxine Dwyer said she called 999 for Mr Briggs after he banged on her door and said he needed an ambulance.
Ms Dwyer told the inquest she read reports about his death the next day.
The inquest heard Ms Dwyer had "vaguely recognised" Mr Briggs from the local area when he banged on her door saying his leg was hurting and he needed an ambulance, before "stumbling away" at about 13:30 GMT.
She called 999 and told medics to inform police as she was worried Mr Briggs was "agitated and irate" and he appeared to be having a "nervous breakdown".
The father-of-two was held by Bedfordshire Police under section 136 of the Mental Health Act, which gives police the power to take a person of concern from a public place to one of safety.
He was restrained and placed in a cell at the station at about 14:25. He became unconscious and was pronounced dead in hospital at about 16:15 on 4 November 2013.
The inquest heard Mr Briggs's primary cause of death was "amphetamine intoxication with prone restraint and prolonged struggling".
A secondary cause of death was given as coronary heart disease.
Ms Dwyer wiped her eyes as she told the inquest she learned of Mr Briggs's death the following day.
"I was traumatised and depressed for a good six weeks, if not longer," she said. "I was very traumatised by it."
Mr Briggs's family lawyer expressed their gratitude to Ms Dwyer for calling 999.
Other witnesses said they saw Mr Briggs, from Luton, darting in and out of shops in Marsh Road before he went to Ms Dwyer's door.
The inquest heard Mr Briggs made a "wailing sound" and was shouting that people were trying to kill him, but he did not seem violent.