Covid: Inside a care home as the vaccine is rolled out
By Ben Schofield & Craig Lewis
BBC Look East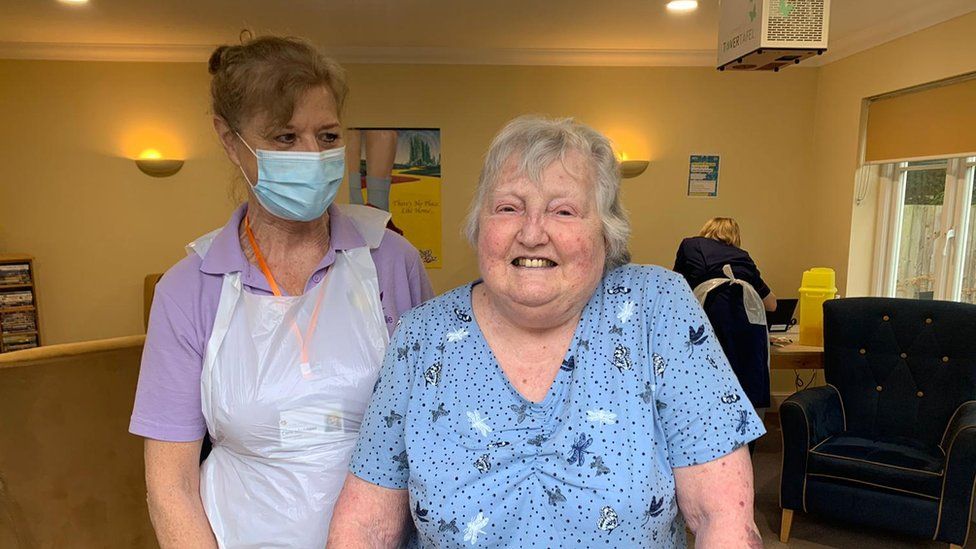 A mass vaccination programme is aiming to offer a first dose of the Covid vaccine to all care home residents and staff in England by Sunday. How is the rollout working and what does it mean to those receiving the jab?
Eighty-two-year-old Shirley Smith has been counting down the days.
For the former infant school teacher, getting a first dose of the vaccine represents a big step towards being able to see her 16 grandchildren and great grandchildren.
She has a message for them: "I hope you are all queued up so I can have the biggest hugs in the world."
Shirley is one of 39 residents and 59 staff who had the first dose at the independent home, in Barley, near Royston, Hertfordshire.
The Glaswegian, who moved to Royston 50 years ago, says time could not pass quickly enough.
"I've been counting the days," she says. "It's just amazing.
"I've been here for four months and before that I was in a flat in Royston.
"I haven't seen my grandchildren or my great-grandchildren - I've got eight of each - since before March.
"I haven't had a cuddle so this is very exciting."
At Margaret House, the average age of residents is 94, with the oldest 102.
The home - formed in 1971 by the parents of current proprietor, Thomas Kelly - provides residential care and caters for people with dementia.
Lead Nurse Nicole Spriggs is in charge of making sure everyone gets the vaccine.
She has worked at Granta Medical Practices for more than 20 years and says all the nurses have plenty of experience handling and administering vaccines.
Coronavirus, of course, presents its own issues.
The vaccine has to be kept in a cool box and the nurses carry out regular checks to make sure it remains at the right temperature.
Granta Medical started carrying out vaccinations on Friday, and Margaret House is the fourth home Nicole has visited.
The team can only work on alternate days as it takes 24 hours to cool the packs down ready to be used again.
Nicole says: "It gives them potentially some freedom in front of them, but not yet. The vaccine takes a little while to take effect and of course they have to have a second dose as well.
"Until they have the second vaccination, you couldn't comfortably say they are immunised."
Nicole says everyone will still need to closely follow government guidance around Covid-19 but adds: "You are giving them a chance, which, at the moment, they haven't got.
"They are just cooped up. It's freedom, isn't it?
"It's lovely. There are lots of things in our jobs which don't always come with smiles, but everybody is really pleased to get the vaccination."
Among them is Joyce Alda, 96, who describes the pandemic as "like a horror movie".
The former Royston surgery practice manager welcomes the vaccination.
"It's necessary, it's a good thing," she says. "I've had needles stuck in me many a time.
She says she is just looking forward to seeing her daughter, son, five granddaughters and six great-grandsons.
RAF veteran Stan Chappell, 91, has lived at the home for a year and a half.
He says staff have "kept us occupied" during the pandemic, but is looking forward to the return of normal life.
For him, that will mean a chance to catch up with his three grandchildren.
"It's surprising what grandchildren do mean to you," he said. "I can't wait to see them again."
Other than a single case in the early stages of the pandemic, Margaret House has managed to stay coronavirus-free.
That did not stop care manager Isabelle Brasier describing coping with the pandemic as "horrendous".
She was full of praise for people working at the home.
"The staff have worked so hard at maintaining their PPE and everything else," she said.
"The proprietors have given the staff PPE to go out in, for shopping and so on. The team have been brilliant."
She says staff are excited and emotional to see residents finally getting vaccinated.
"We were standing there crying," she says.
"For the residents to have a chance to see their families again is unbelievable.
"It gives so much hope. We have been longing for this day."