Covid-19: Snow closes Broxbourne mobile test centres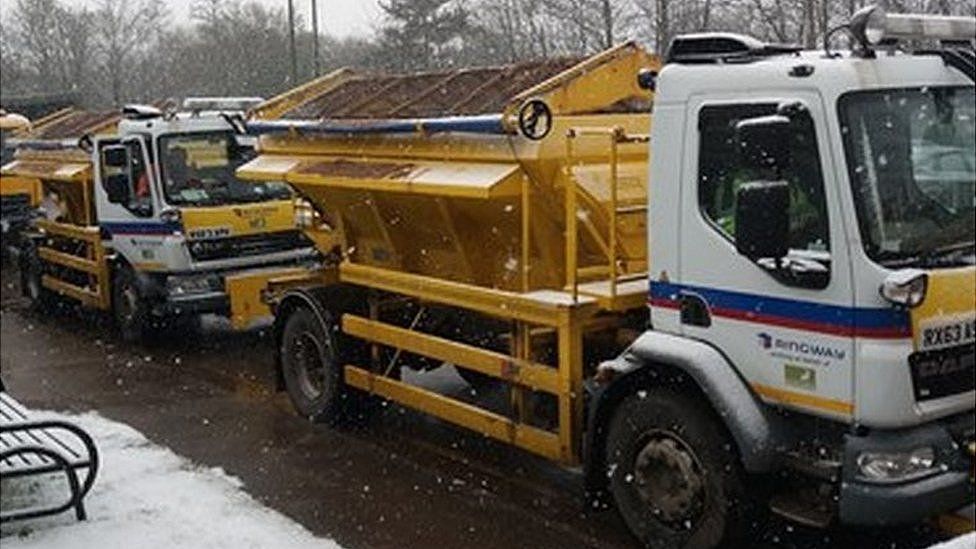 Covid testing units in a town where 10,000 adults have been urged to take a test have closed due to adverse weather conditions.
People in the EN10 postcode of Broxbourne in Hertfordshire were asked last week to be tested after cases emerged of the South African variant.
Hertfordshire County Council said the Broxbourne Lido and Paradise Wildlife Park units were closed on Monday.
Door-to-door test deliveries "will continue as planned", it added.
A Met Office yellow warning for snow is in place across much of the east and south-east of England until midnight on Wednesday - meaning travel disruption is likely.
Last week, the government announced all adults in that area would be encouraged to get tested over the next two weeks, whether they have symptoms or not, after confirmation "an isolated number of cases" of the variant had been detected.
Public health director Prof Jim McManus said the small number of cases in the UK had been picked up by routine surveillance testing so they were "about to embark on this exercise" to detect and suppress further cases.
Since Tuesday, residents had been able to visit the two mobile testing centres or pick up tests from Wormley Community Centre and Hoddesdon Library.
The authority said patients with appointments at the mobile units would receive a cancellation notice by text to cancel but the door-to-door teams - of volunteers, council officers and firefighters - were continuing to visit addresses in the postcode.
In other parts of the county, the Three Rivers and Watford mobile testing units for those with symptoms were also closed on Monday due to the weather.
The council said those with appointments would receive a message to rebook from the Department of Health and Social Care.
Other rapid testing sites across the county for those without symptoms were open as usual, it added.