Leon Briggs: Officer apologises over 'dirty protest' claim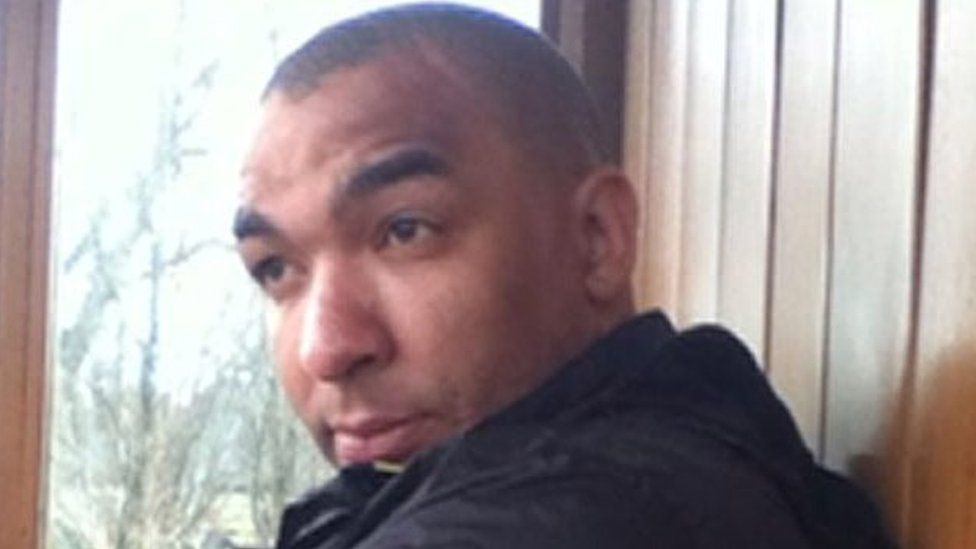 A police officer has apologised for accusing a man who later died of staging a "dirty protest" in a cell.
Leon Briggs, 39, died in November 2013 after being restrained and detained at Luton police station under the Mental Health Act.
Mr Briggs had urinated on himself while unconscious in the cell, an inquest into his death was told.
The jury also heard officers were "laughing" as Mr Briggs was motionless and lying face down in the cell.
The inquest has been told how officers were called to Marsh Road in Luton on 4 November due to concerns about Mr Briggs' behaviour.
He was restrained face-down in the street, handcuffed and placed in leg restraints, before being taken to Luton police station.
The father-of-two was detained in a cell at about 14:25 GMT under the Mental Health Act. He became unconscious and was pronounced dead in hospital at about 16:15.
The inquest in Milton Keynes heard his primary cause of death was "amphetamine intoxication with prone restraint and prolonged struggling". A secondary cause of death was given as coronary heart disease.
Sgt Grant Waterman said he had noticed Mr Briggs had urinated on himself but believed it was "intentional".
The inquest was told that police officers are trained to treat urination as a warning sign of "loss of consciousness".
Adam Straw, representing Mr Briggs' family, said: "Are you seriously telling the jury that a man who was in a mental health crisis, who appeared confused and to not understand what was happening, and where there was every sign he was unconscious, was intentionally and deliberately urinating on the floor to protest about his treatment?"
Sgt Waterman acknowledged the phrase "dirty protest", which he used in evidence to the inquest on Friday, was "inappropriate" and he apologised "for any offence".
Mr Straw said it was "offensive" to Mr Briggs' family for the officer to suggest that "while their son was dying in that cell" he was performing a dirty protest.
"He'd gone from being incredibly active and loud to silent," said Mr Straw.
"He was motionless, he was unresponsive; he'd been gasping, he'd urinated [on] himself, there was every sign he was unconscious, wasn't there?"
Sgt Waterman said he "hadn't noticed" the signs at the time.
Mr Straw said officers were "laughing" and talking about "something else" while Mr Briggs was lying in the cell in a "medical emergency".
Sgt Waterman said officers who had not been at Marsh Road were not aware of how long Mr Briggs had been restrained for and in what positions.
He said "with hindsight" the information should have been made clear as Mr Briggs should have been taken to hospital.
Related Internet Links
The BBC is not responsible for the content of external sites.