Covid-19: Foreign nationals in the UK on lockdown isolation from family
By Alex Pope & Theo Chikomba
BBC East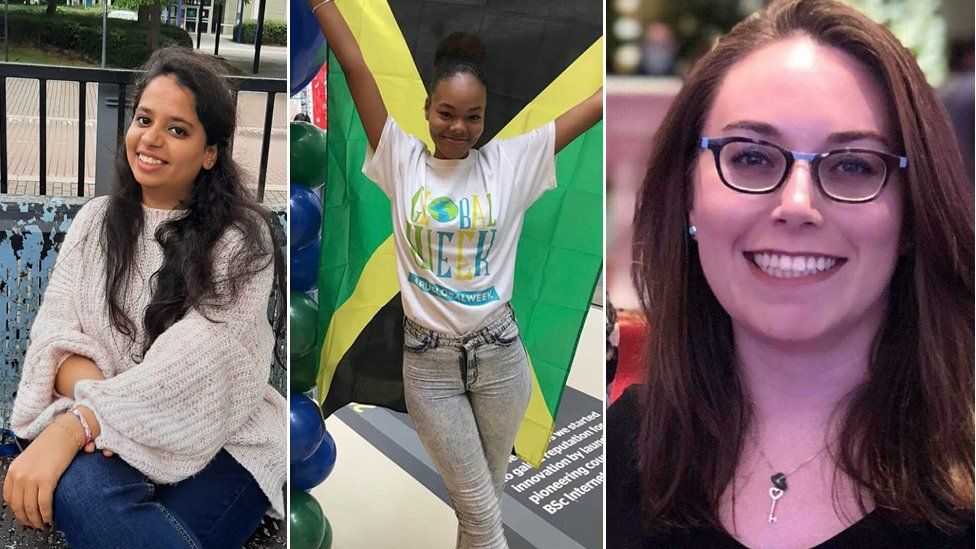 When England went into its first lockdown in March 2020, it meant many people from abroad who were working or studying in the country were unable to go home to see their families. What effect have travel restrictions had on people not being able to see their loved ones?
'I learnt how to manage myself'
Heema Chauhan, 22, left her home country of India in September 2019 to begin her master's degree in management and entrepreneurship at Cranfield University in Bedfordshire, and has not seen her family in person since then.
After finishing her studies in September 2020, Heema says she has found it difficult to get a job related to her qualifications, and has mainly been working in warehouses and taking on part-time jobs.
"Given the pandemic, international students have had other barriers and, as I need a sponsorship license for people to hire me, it has really affected my job prospects," she says.
"I have been looking for jobs in charities, trusts and foundations, but as they haven't been able to secure funds the way they were able to beforehand, I haven't been able to get a job in my chosen profession.
"I was really looking forward to getting some experience of working here in UK."
Miss Chauhan, currently living in a bubble with five friends in Bedford, says: "I decided not to travel, as the chances of contracting the virus if travelling, are high and I felt it was safer to stay.
"My visa expires at the end of March, so unless I get a job, I will have to return.
"I don't regret it - whatever challenges that come in front of me - I look at them as opportunities to learn from them.
"The pandemic was something no-one anticipated. I learnt how to manage myself, to keep myself calm in certain situations - when I am alone or when things are up and down."
A WhatsApp group created by her course director "kept me sane".
"Every day she used to give us some fun challenges or ask us some questions regarding what kind of activity we did today," she says.
"That kept us energetic and many more other interesting things.
"I'm looking forward to seeing my family. They are ready to welcome me back."
'I missed my nan's funeral'
Kristin Johnson is counting down the days until she can return home to Jamaica to see her family, after leaving them in August 2019 to study for her master's in forensic science at Anglia Ruskin University in Cambridge.
She says she came to the UK to get "a first world experience in the lab and to learn new skills", but once the first lockdown rules came into force a year ago, she was left as the only one on her floor in her accommodation, unable to mix with the other five remaining students in her building.
Despite the changes, the 24-year-old completed her dissertation in October and was awarded her degree in February 2020.
"It's been really difficult. It wasn't what I expected at all. Everything changed drastically," she says.
She is "devastated" the learning experience she hoped for did not happen even though her university "did the best they could".
Kristin has found it really difficult not being able to visit the Caribbean, as her planned trip home in Easter 2020 never happened.
Due to Jamaica closing its borders going home was never an option.
"My nan, back home, died and I wasn't able to go home - that was really difficult," she says.
"Their borders did open for a short while, but I was working."
She has "no clue" when she will be able to return home and feels "in limbo".
"My family only wants me to return when it is safe for me, so when the borders do reopen, I will travel home, but only if it is safe."
'It's irresponsible to travel home'
Rebecca Zeitlin, from the United States, says "it's the longest I've ever gone never being on an airplane".
She works for Hybrid Air Vehicles, the company behind Airlander - the world's longest aircraft which was developed at the giant hangars at Cardington near Bedford.
Ms Zeitlin has been in the UK seven years and her last visit to see her family in Kentucky was over Christmas 2019.
"I would normally see them twice a year, I would go over and they would come here," she says.
She lives in Ampthill in Bedfordshire, and says she decided not to travel home.
"Even if I could, it is the responsible choice not to. How could I live with myself for doing that?" she asks.
"I live alone; in the beginning it was awful.
"I'm an extrovert so being alone is hard, but it's what we've got to do.
"I feel like later this year can't come fast enough as I hope I will be able to see my family and hug them.
"I'm 31 years old, but even 31-year-olds want to hug their mom.
"My parents are vaccinated now which makes me feel better, so I am less worried about them."
She describes herself as a "pretty tough cookie", but the three lockdowns have been stressful.
"I've been exercising a lot more, and finally I believe that exercise is good for you and makes you feel better; I actually like it now," she says.