Hertfordshire neighbour 'put chemicals in footballer's boots'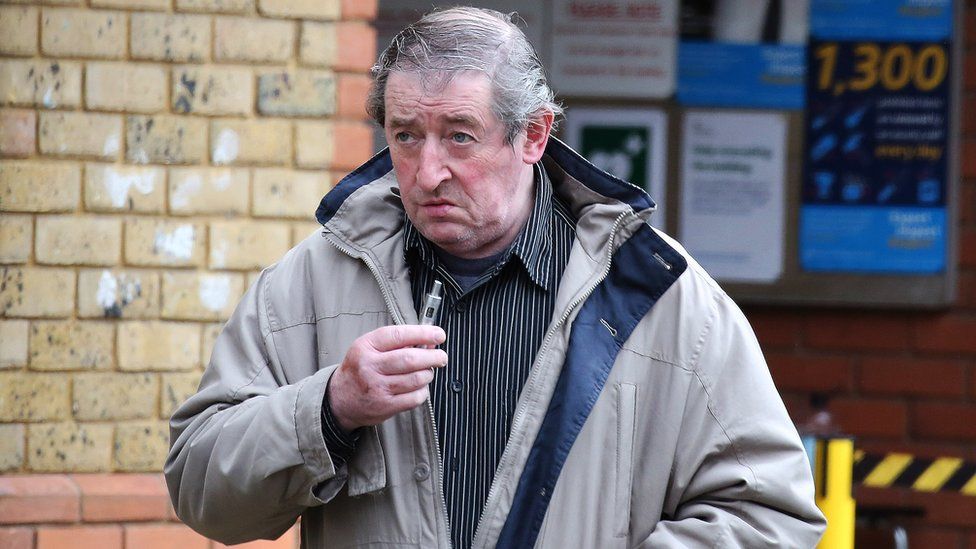 A man poured corrosive chemicals into his neighbour's football boots in a dispute over mess in their shared hallway, a jury heard.
Jordan Coomes had left his muddy boots and kit outside his flat for several days, St Albans Crown Court was told.
When he next wore them, he returned with "black, rotting" feet, his then-partner Georgia Mills said, and later required a skin graft for deep burns.
Roderick Waller, 66, from Cheshunt, denies causing grievous bodily harm.
Ms Mills told the court the couple had moved to a flat opposite Mr Waller's in Hoddesdon, Hertfordshire, March 2017.
She said Mr Coomes would normally bring his boots in, but due to rain, his muddy boots had been left outside with his top and shorts on 12 March.
When he returned from playing another match three days later, his feet were "pretty much black and looked like it was eating away at itself", she said.
"It was rotting. It smelt like burning - like a really strong bleach smell," she said.
The next day he was taken to a specialist burns unit at Broomfield Hospital in Chelmsford, Essex, where doctors found five areas of skin damage and deep burns to his left foot.
Prosecutor Michael Shaw said: "It seems Mr Waller took against him leaving muddy boots outside the front door.
"It seemed he had poured a very, very corrosive alkaline substance into the boots. When [Mr Coomes] started to run it seeped through his socks and he required a skin graft."
Police discovered a white residue on the boots with a high pH value.
Mr Waller's flat was searched and a clear jar of fluid, with a strong alkaline pH value, was found, Mr Shaw said.
Mr Waller, now of Valence Court, Cheshunt, said he had not been upset about the items being left in the communal hall, adding that the door was occasionally left on the latch.
The fluid was "for putting cleaning fluid down the sink and drains" and had been there for years, he said.
Paul Lazarus, representing Mr Waller, asked him if he had any reason to injure Mr Coomes. He replied: "None at all."
Related Internet Links
The BBC is not responsible for the content of external sites.