St Albans charity hands out 3,000 lockdown meals to homeless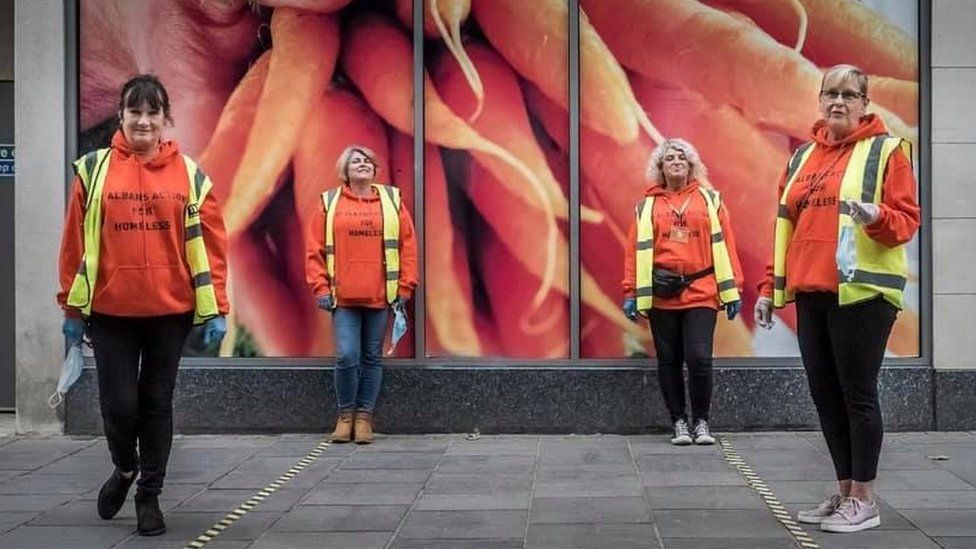 About 3,000 meals have been handed out to homeless people after a plan to use restaurant stock during the first lockdown "snowballed".
St Albans Action for Homeless's regular soup runs turned into full dinners during the pandemic as closed restaurants used their facilities to prepare food.
It quickly led to more regular provision for the city's vulnerable.
The charity said it was "something positive" to come out of the lockdowns.
St Albans Action for Homeless was set up about three years ago by a group of friends who went out at weekends with a shopping trolley and flasks of soup, but this had to stop when the first lockdown was announced last March.
Community action officer, Sharon Linney, said a "shout out" went out to pubs and restaurants which had to close quickly and had stock that needed to be used.
"During those first three months, we picked up food from pubs, restaurants and other organisations and took them to Open Door, Martin House and Kent House and made sure that those housed temporarily had food," she said.
Those that came on board to provide the "amazing food" included the Hare and Hounds, Souvlaki City, the Great Northern Pub, Dylans, the Cobbled Kitchen, the Ridgeway Fish Bar and the Street Cafe, and the businesses continued to provide food even when they could reopen for their usual customers, she said.
It is estimated that about 3,000 meals were provided over the 12 months.
"The community came together," Mrs Linney said.
"It's something positive that has come out of all this and hopefully people will support these places as they reopen and help them rebuild their businesses."
Open Door night shelter trustee, Lucy Gaygusuz, said when Covid first hit, it had to pull out all the volunteers which cooked meals while they looked for alternative premises for safe food preparation and the fact that pubs and restaurants were still providing food was "very uplifting".
It received about 1,600 meals alone.
"It was amazing that local businesses stepped in and we were inundated with offers," she said.
"We are used to working in adverse circumstances but the fact that pubs have stepped in when they are suffering the most is incredible."
Hare and Hounds landlord Jamie West said there had been a "wonderful snowball effect".
After the "blind panic" of having to close just before Mothers' Day last year, he agreed to start feeding people at Open Door, or wherever else it would be useful, including regular lunches for an NHS Covid Vaccination clinic and vulnerable people suggested to him by the local community.
They have since given away about 1,800 meals with a retail value of approximately £16,000, something he said he is "incredibly proud of".
"There has been such a lot of good will," he said.
"This has been the hardest year of my life, but has also restored my faith in humanity and the concept of community."
Related Internet Links
The BBC is not responsible for the content of external sites.