Milton Keynes warehouse: Planning decision review 'should be finished'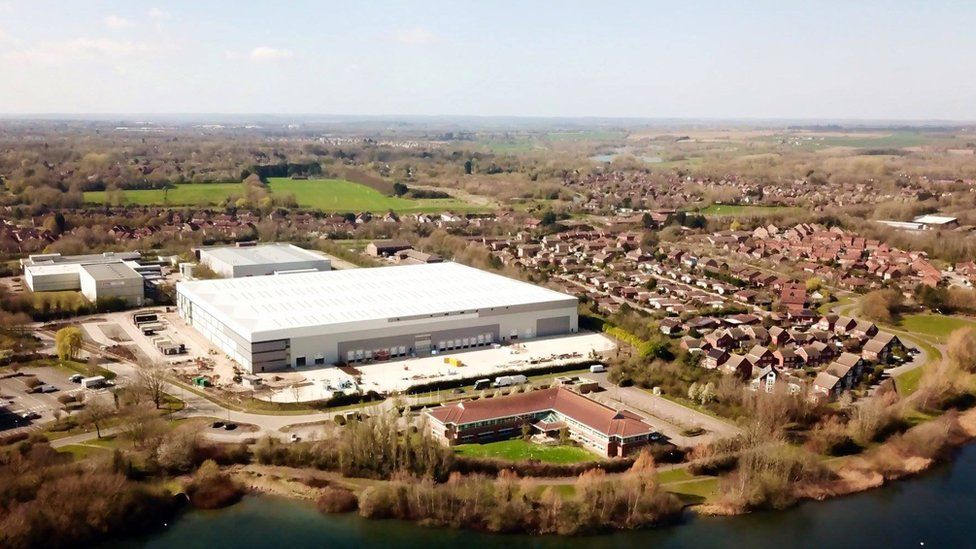 A much-delayed report into an "horrific" warehouse should be completed, councillors have concluded.
Planner Marc Dorfman's review into the decision to allow the warehouse in Blakelands, Milton Keynes to be built should have been published in mid-2019.
At a Milton Keynes Council audit committee, residents called the review "an unmitigated disaster" and said it should be scrapped.
The committee said Mr Dorfman should "concentrate on completing his review".
The 18m (59ft)-high warehouse, which covers 20,522 sq m (220,900 sq ft) of floorspace, has previously been described by residents as a "huge, enormous monstrosity".
It was granted planning permission by the Labour-controlled council in May 2017.
The committee's decision on Monday was made following a discussion about an audit review into a preliminary report published by Mr Dorfman in November.
That report called the decision to grant planning permission "bona fide and proper".
Resident Jenny Watson urged the committee to "draw a line under Marc Dorfman's work".
"It is difficult to put in to words how horrific it has been to live next to this warehouse," she said.
"I have waited years to read this report, but still don't have answers."
Andrew Herman, who has been supporting Blakelands Residents' Association in its attempts to get answers, said: "This external review has been an unmitigated disaster.
"Residents have no facts or the truth."
Conservative councillor Andrew Geary questioned whether the committee "still maintains faith in Marc Dorfman's findings".
The committee also received confirmation Mr Dorfman's final report has been delayed again until at least 10 May.
However, Labour committee member Mick Legg said councillors should wait to see "the full report before we make any judgements".
And Liberal Democrat Leo Montague added the final report should be seen "before we make any decisions about a further big review as we might be talking about years and years, and that just prolongs the agony for residents".
The committee voted on a number of recommendations, including approving one from Labour councillor Martin Petchey which said it should ask "Mr Dorfman to concentrate on completing his review and setting out the evidence base for his conclusions".
Correction 24 March 2021: An earlier version of this article incorrectly described Martin Petchey as a Liberal Democrat councillor. He is a Labour councillor and this line has been amended.
Related Internet Links
The BBC is not responsible for the content of external sites.