Milton Keynes Hospital: Sepsis advice 'disregarded' before man's death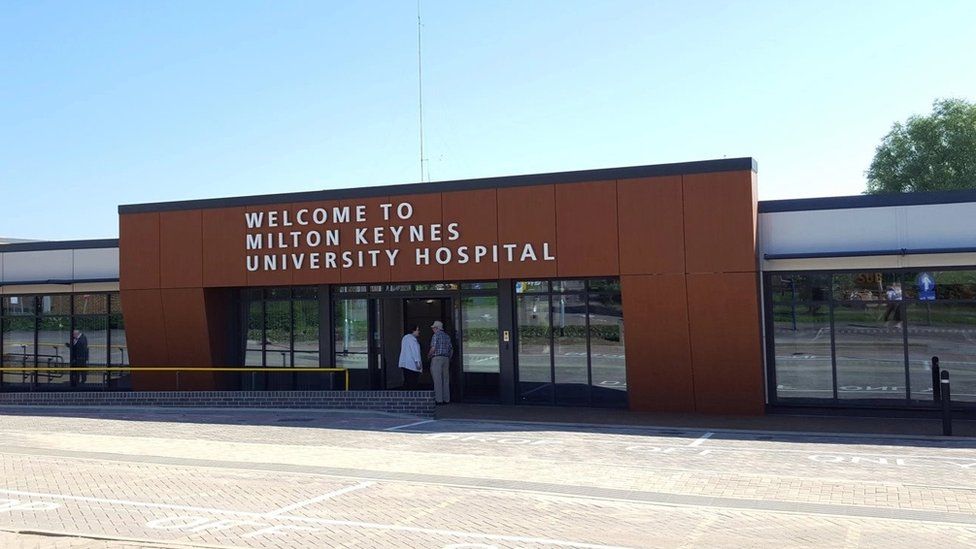 A coroner has called a decision not to carry out further tests on a man who died days after attending hospital "disturbing".
Nicholas Rousseau, 47, died on 9 October 2019 after visiting A&E at Milton Keynes Hospital twice.
On one occasion he had twice the normal level of lactate in his system, an indicator of sepsis which should have seen him "escalated to high risk".
The hospital said it would be reviewing coroner Dr Sean Cummings' comments.
Mr Rousseau attended the hospital on 3 and 5 October 2019, but was discharged and died at home.
On his first visit he had been found to have a venous blood gas lactate level of 3.9.
Guidelines from the National Institute for Health and Care Excellence (NICE) say if "a lactate is above 2 then the patient should be escalated to high risk".
Confusion a 'threat to patients'
Although the inquest found Mr Rousseau died of natural causes, in his report Dr Cummings said he had been concerned by the "conflicting accounts" of two hospital consultants.
He wrote that the consultants had disagreed over the importance of the lactate level "which was nearly twice the upper limit of normal and whether they would repeat [the test] before discharge".
One had told Dr Cummings he would not repeat the test "because he saw lots of patients with elevated lactate and with the resources he had available he would be spending a disproportionate amount of time checking lactate levels in patients who ultimately would be fine".
The report said this consultant had called routinely repeating the test "an unnecessary burden".
The second doctor had told the inquest that "irrespective of the burden of work" she would repeat the test.
Dr Cummings wrote that their "contrasting opinions indicate a degree of confusion" among the hospital's senior staff which "poses a threat to patients with sepsis".
"The disregarding of the NICE guidelines simply because it is inconvenient is disturbing," he added.
The hospital's medical director, Dr Ian Reckless, said staff "are strongly encouraged to adhere to relevant clinical guidelines so that the safety of the patient is always prioritised".
He said the coroner's comments would be reviewed "to ensure any possible improvements can be made and appropriate measures are introduced".
Related Internet Links
The BBC is not responsible for the content of external sites.