Chris The Rhea bird 'thanks for making Maple Cross famous'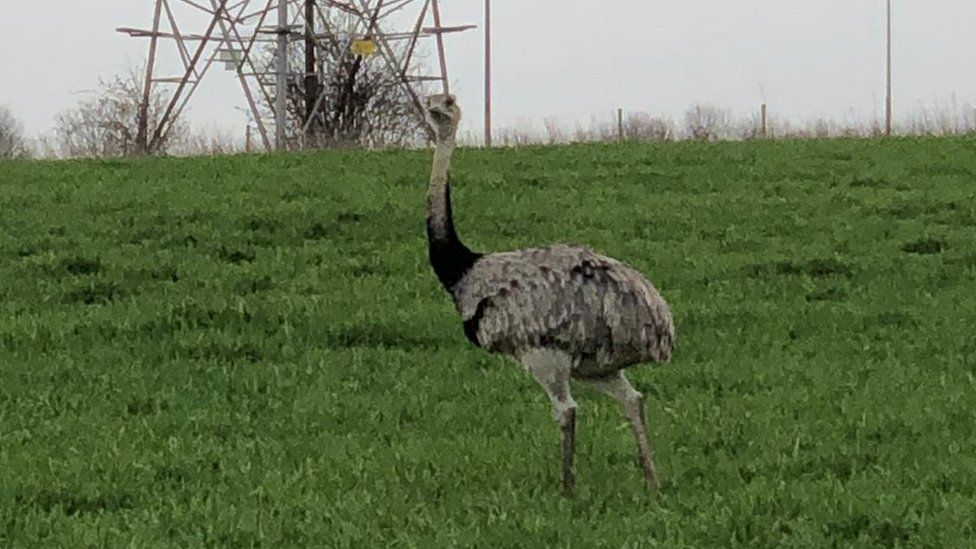 People living on a housing estate where a rhea bird has been seen running wild have said "thank you for making it famous".
The bird, nicknamed Chris The Rhea, has been spotted in Maple Cross, Hertfordshire, since March 2020.
She has created a Facebook page to share his antics, as he roams close to the M25.
"I have no idea where he came from, he just appeared," she said.
He got his name from the singer Chris Rea and because it was "gender neutral", because until recently no one knew its sex, she said.
"We are on the outskirts of Maple Cross, in fields there are a number rhea birds owned by two farmers, which is where Chris headed to.
"When he arrived, I don't think he was sexually mature shall we say, and this time of year is their breeding season and Chris has smelt something on the wind and headed this way".
Hertfordshire Police had previously advised the public not to approach the birds as they "can be aggressive if cornered".
"Unfortunately we have received reports of them attacking dogs and deer, so we ask that dog owners are vigilant when out walking", PC Christian Gottmann said.
For the past year he has just "roamed free and hasn't caused any trouble", Ms Fagioli claimed.
"He has become a local celebrity and everyone is enjoying him."
She does not know where he gets his food from but believes he is good at foraging for seeds and insects.
"Thanks for coming to Maple Cross and making it famous.
"We love having him about, he's just part of the scenery".
Police confirmed officers are dealing with the situation and they are liaising with Three Rivers District Council and Highways for the bird's possible capture.
Related Internet Links
The BBC is not responsible for the content of external sites.