HS2: Arrests as 'Roald Dahl wood' felling starts
By Claire Marshall
Environment & Rural Affairs Correspondent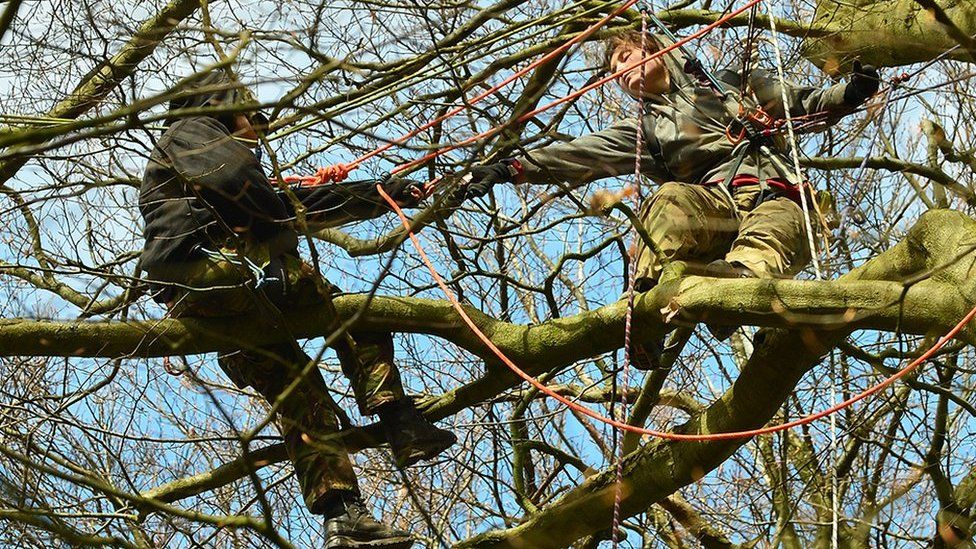 Three people were arrested as campaigners protested against the felling of a woodland said to have inspired Roald Dahl.
Campaigners said they wanted to "fight for the woodland" in Buckinghamshire.
A spokesman for the high-speed rail line said 4.1 hectares (10 acres) of new woodland would be created nearby.
The three have been charged with obstructing a public highway, while a fourth was arrested on suspicion of a public order offence dating to last month, and released under investigation.
The estimated final cost of the HS2 project is now more than £100bn.
On 30 March, Natural England's director for wildlife licensing and enforcement cases Dave Slater said: "After careful assessment, we have determined that the felling of a small number of trees at Jones' Hill Wood will not be detrimental to the overall conservation status of the bat populations in this area."
He added "mitigations", including the creation of new roosts, had been put in place.
A protester in her mid-20s, who called herself Pigeon, was involved in an aerial stand-off with a bailiff on Wednesday that went on for several hours.
Speaking to the BBC from high in the branches of a beech tree, she said she was "here to fight for the woodland - I'm making a stand".
She said: "I'm here in physical form because the legal system is not designed to protect the environment.
"HS2 isn't encouraging rail travel - if it were then it would be making it cheaper and more accessible than car travel.
"It will be more expensive, and it won't be carbon neutral in its 120-year lifetime."
The campaigner, who has been at the site on-and-off for nearly a year, added: "The damage that is being done to facilitate this railway is extreme."
Dahl, a keen walker, wrote Fantastic Mr Fox in 1970.
The much-loved story tells the tale of wily Mr Fox, who outwits farmers Boggis, Bunce and Bean.
The real-life Bunce family still farms the area. Peter Bunce told the BBC that he played in the wood with his brother and sisters as a child and added he was "gutted" at its destruction.
"It's disappearing as we look in front of us," he said. "It's just hollow. There's no feeling left.
"It used to be full up with primroses, foxgloves, bluebells, wood anemones, all sorts of things … it's disgusting what they have done."
The construction and operation of Phase One of HS2 is authorised by the High Speed Rail (London - West Midlands) Act 2017.
It plans to create a new woodland, planting 22,000 trees, which will link to the remains of Jones' Hill Wood, connecting it to another wood.
Alex Towse, construction director with HS2 contractor Fusion JV, said: "What we are doing through the compensation is to look at the native species that are already within the landscape and design a mitigation scheme that is sympathetic to what is around it.
"And by joining up those existing habitats, it creates a green corridor along the route."
HS2 said it would plant up to seven million trees and shrubs along the first phase of the line and create more than 33 sq km (12.7 sq miles) of new woodland, wildlife and river habitats.
It claims to be one of the most sustainable high-speed railways in the world, supporting the UK's transition to a net zero economy.