Pistol: Danny Boyle's Sex Pistols drama filmed in Hemel Hempstead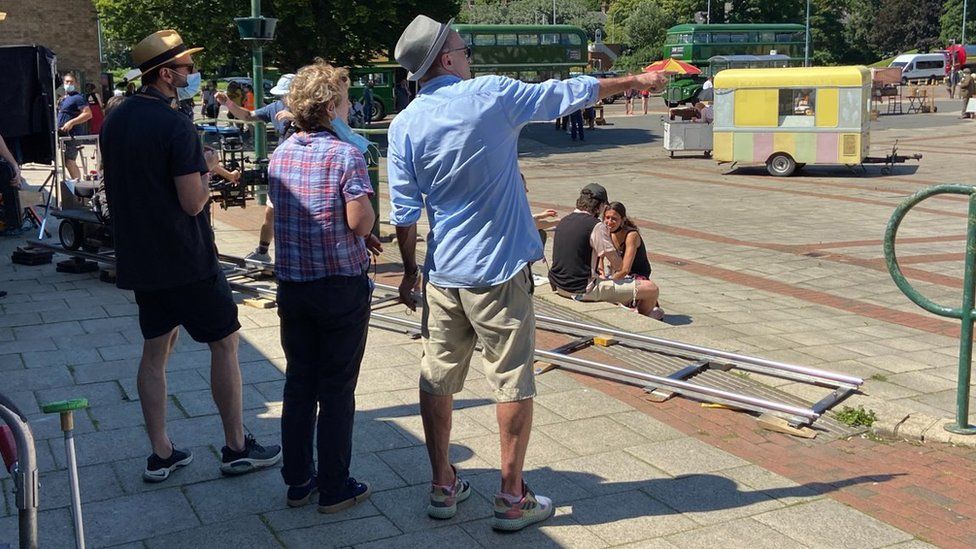 A town in Hertfordshire was transformed into Birmingham and Huddersfield for a new Danny Boyle drama about punk band the Sex Pistols.
The cast and crew of Pistol took over parts of Hemel Hempstead.
Two locations in the town doubled up as gritty urban centres for the 1970s-set drama, which is due for release in the UK early next year.
Resident Dan Stobbs, who photographed the filming, said: "I wasn't expecting to see Danny Boyle in Hemel."
Boyle's new drama series, being made by Disney, is based on the book Lonely Boy: Tales from a Sex Pistol, by the band's guitarist Steve Jones.
Some of the scenes are set in Birmingham - or, in this case - Hemel Hempstead's Bank Court area.
It was turned into Birmingham New Street railway station and a Caffe Nero doubled up as a C&A - a stalwart clothing chain from back in the day.
The Sex Pistols formed in London in 1975
The band originally comprised vocalist John Lydon (aka Johnny Rotten), guitarist Steve Jones, drummer Paul Cook and bassist Glen Matlock. Matlock was replaced by Sid Vicious in 1977
Single 'God Save the Queen' was banned by the BBC in 1977
Their only album 'Never Mind the Bollocks, Here's the Sex Pistols' went to number one in the UK
Vicious died of a heroin overdose in February 1979, following his arrest for the alleged murder of girlfriend Nancy Spungen.
"The coffee shop was still open as usual, but the crew covered the windows with paper so you couldn't see inside, and added the C&A sign to the outside," said Mr Stobbs.
"It was so hot that part of the sign starting peeling off and they had to get a ladder to fix it."
He had "heard rumours" that filming was taking place and spotted crews setting up on Saturday.
"I went back on Sunday and everyone was there - but even I wasn't expecting to see Danny Boyle in Hemel," he said.
The town's Market Square was transformed into 1970s Huddersfield, where Boyle directed scenes including one with band members in a car performing doughnuts at speed and swearing at the local girls.
A pizza takeaway was turned into a pawn broker's shop for one scene.
"I think they were still selling pizzas out of there on Saturday, even though the shop's signs had all been changed," Mr Stobbs said.
He had to stop taking photographs when Boyle began directing filming, but stood "about five metres away" from the director, known for films including Trainspotting and Slumdog Millionaire.
"Members of the crew kept walking past him, saying, 'You all right, Danny?'," said Mr Stobbs.
Although not a Sex Pistols fan himself, Mr Stobbs said he would be watching and looking out for the scenes filmed in his hometown.
Boyle's filming caused "a buzz of activity" in the town as people "watched the excitement", said Alan Anderson, from Dacorum Borough Council.
"There were many local businesses involved in the filming and set-up, and lots of planning went in to make this a success."
He said the area was "becoming increasing popular with blockbuster films, popular TV series and commercials being regularly filmed in the borough".
Related Internet Links
The BBC is not responsible for the content of external sites.