Hertfordshire church vandalised 10 days after reopening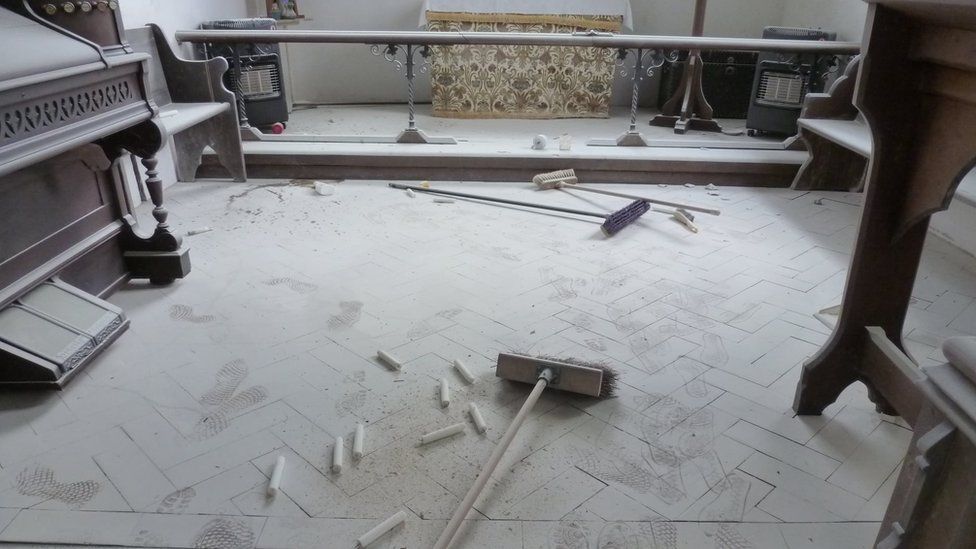 A Grade II* listed church which had just reopened after nine months of repairs has been damaged by vandals.
St Mary Magdalene's in Caldecote, Hertfordshire was targeted between about 16:30 and 17:30 BST on Thursday, 10 days after reopening.
Windows and decorations were smashed, powder fire extinguishers let off and bleach thrown over the floor and altar.
Caldecote Church Friends called it a "mindless act of vandalism" and a "dreadful violation".
In a Facebook post, it said the church would be closed until further notice while police investigated and for cleaning to take place.
"Although nothing of value was stolen, vandals amused themselves by using CO2 fire extinguishers inside, smothering everything in a layer of fine white powder," a statement said.
Spokeswoman Grazyna Tutak said: "It is a dreadful violation; it felt extremely personal, as though it was an attack on our private property."
The church, in a hamlet near Baldock, closed for worship in 1974 and had fallen into disrepair but was restored through the work of Friends of Friendless Churches (FFC), which saves disused places of worship of architectural and historical interest from demolition and decay, supported by the Caldecote Church Friends volunteers.
The church is 51ft (15.5m) in length, dates from the 14th and 15th Centuries, and hosts events throughout the year from flower festivals to concerts and theatre productions.
FFC said it was a "small place jam-packed with interest" and has "thousands of visitors every year" who come to see its medieval font, pews and graffiti and Georgian pulpit.
Between September and June, it underwent £150,000 of repairs which saw the re-roofing of its chancel, nave and porch.
FFC director Rachel Morley said "thankfully none of this work was undone" but there were a lot of new repairs needed as rocks had been thrown resulting in 13 broken window panes and damage to their lead lattice work.
"We were so triumphant at reopening and the church had looked the best that it had done for ages, so to have it undone in the space of an hour is so disheartening," she said.
"But the rallying round of people [to clear up] fills you with faith in humanity."
It may not look like much, but the powder is everywhere. In every crevice. It's thick. Hours of cleaning and barely any difference made.

2/ pic.twitter.com/op5oW3YEq0

— Friendless Churches (@friendschurches) July 30, 2021
Hertfordshire Police has been contacted for comment.
Related Internet Links
The BBC is not responsible for the content of external sites.