Milton Keynes: Callum Aylett guilty of neighbour feud murder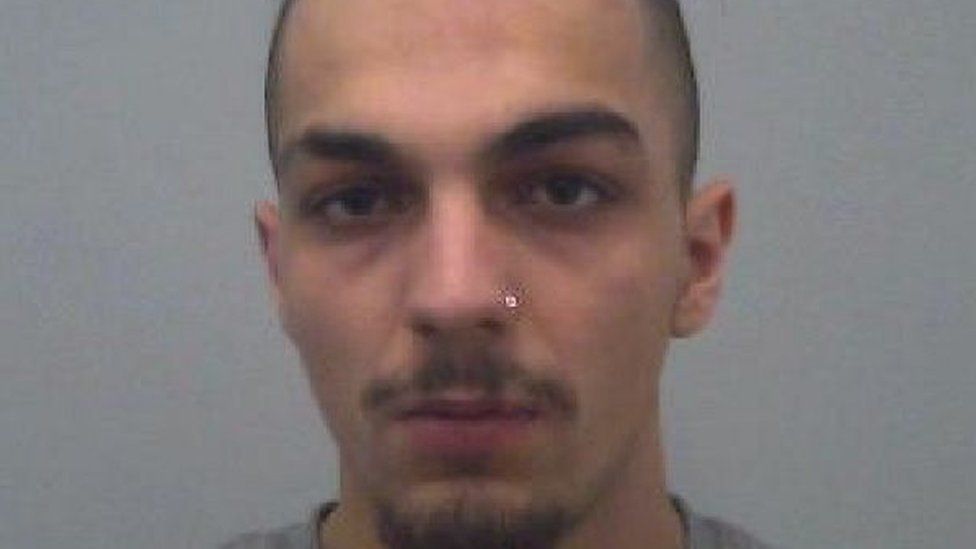 A man has been found guilty of murdering a teenager in the early hours of New Year's Day after a conflict between two households on a street.
Callum Aylett, 21, stabbed Jay Fathers, 18, to death and injured another man in Milton Keynes on 1 January.
The court heard Mr Fathers was not involved in the bad feeling between the neighbours, but was visiting friends.
Luton Crown Court jurors found Aylett guilty of murder and wounding with intent to cause grievous bodily harm.
He will be sentenced at a later date.
The court heard how Mr Fathers was repeatedly stabbed by Mr Aylett in the kitchen of a house in Walsh's Manor on the Stantonbury Estate, where police said he had been celebrating New Year.
The defendant also stabbed Nicholas Grant, who lived at the house.
Aylett was living in the same street and the prosecution said a feud had developed between the two households.
The court heard how at just after midnight on 1 January, as the defendant and his girlfriend were in his back garden seeing in the New Year and watching fireworks being let off, a chair leg was hurled over the fence.
Aylett, who had been drinking brandy and smoking cannabis, was convinced it had been thrown by people from the neighbouring house and he armed himself with two kitchen knives and went to the property, the court heard.
Prosecutor Michael Roques said of Aylett: "He was very loud and demanding entry and threatening to kick the door in if they didn't come down and open it."
The jury was told that after being allowed in, he became threatening and intimidating to those present and brandished the knives.
Giving evidence, Aylett admitted he had gone to the house armed with two knives because he said he wanted to "intimidate and humiliate" the occupants.
But he claimed he used a knife in self-defence after being attacked by Mr Fathers who was armed, he said, with a knife, and Mr Grant, who was brandishing a pole.
Mr Fathers received five deep penetrating wounds and was left "mortally wounded", said the prosecutor, while Mr Grant was stabbed twice by the defendant.
Police said it was "only a matter of fortune" the second injured man survived.
Related Internet Links
The BBC is not responsible for the content of external sites.