Leon Briggs: Training for ambulance staff after Luton death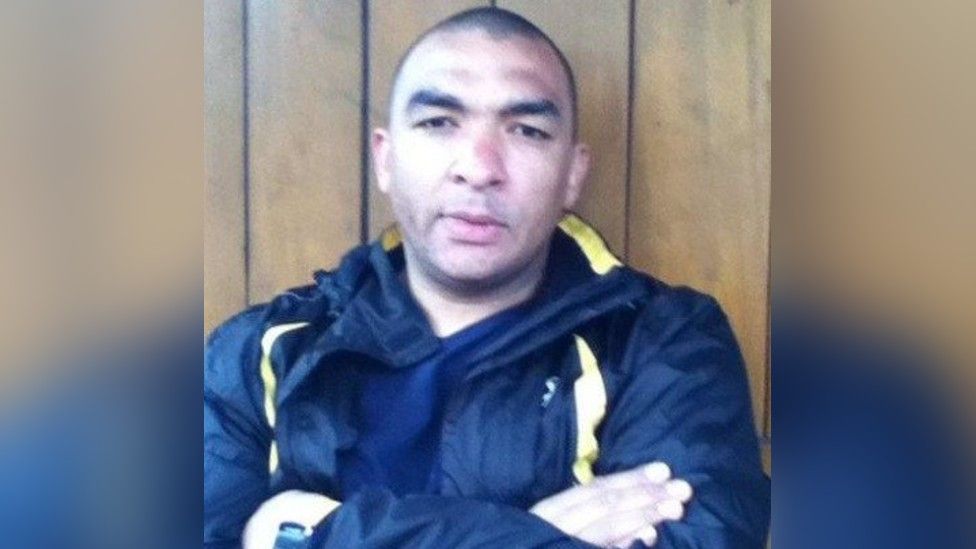 Ambulance staff will have further training after a father-of-two's death exposed issues around restraint.
Leon Briggs, 39, died in 2013 after being detained at Luton police station under the Mental Health Act, having been held face-down in the street.
In October, coroner Emma Whitting said restraint training in the emergency services was still inadequate.
The ambulance service involved said in response that staff will have specific training on positional asphyxia.
Officers were called on 4 November 2013 due to concerns over his erratic behaviour and, after being restrained face-down, handcuffed and placed in leg restraints, he was lifted into a police van "like he was a bag of potatoes", a witness said.
He was detained in a cell at about 14:25 GMT. Mr Briggs became unconscious and was pronounced dead in hospital at about 16:15.
After the inquest, Ms Whitting, senior coroner for Bedfordshire and Luton, issued a warning in her prevention of future deaths report that said: "It was clear from the evidence heard at the inquest that there remains insufficient or inadequate instruction of both police and ambulance crew about the critical issues of recognising and responding to a medical emergency and the effects of restraint including positional asphyxia."
In response, the East of England Ambulance Service NHS Trust (EEAST) said it had "developed a specific training session in relation to acute behavioural disorder (ABD), including positional asphyxia".
"Since this inquest, EEAST's Mental Health Team have worked collaboratively with the NHS partner organisations across the East of England to develop and implement a new mental health care service model," it added.
The service said through that model they hoped to "deliver relevant training, identify and improve access to appropriate care pathways".
The Association of Ambulance Chief Executives said that national guidance around section 136 of the Mental Health Act had recently been updated.
"The revised guidance includes wording to highlight that the police officer on scene should call the local ambulance service and include in the information passed whether the patient is being actively restrained and if so how, and if ABD is suspected.
"Ambulance trusts will assign a Category Two response to patients detained under S136 and suspected of having ABD unless there are other immediately life-threatening clinical features that would warrant a Category One response."
In response to the coroner's concerns around training, Bedfordshire Police's Deputy Chief Constable Trevor Rodenhurst said: "The national position is that officers are not mental health practitioners and that the skills officers have are not the same as those of clinicians and practitioners in mental health units.
"It is important to keep in mind that police officers should defer to ambulance staff and clinicians on medical matters because of their specialist training and focus."
But they said the force's officers do receive training on section 136 of the Mental Health Act, mental health awareness and first aid.
Mr Rodenhurst said Mr Briggs's death was "well known to those responsible for training and refresher training, and will have a lasting impact on their provision of training to individual officers".
In response to Ms Whitting's further concerns around the adequacy of monitoring of detainees subject to restraint, Mr Rodenhurst said "all officers involved in the provision of restraint and care to a detainee are required to monitor", but admitted that "did not happen appropriately in Mr Briggs' case".
He added that in current training there was "the concept of a safety officer", who would observe the restraint and look "for any signs of problems and can give advice to the officers performing restraint".
Related Internet Links
The BBC is not responsible for the content of external sites.