Covid booster jabs: Why people say they are worth queueing for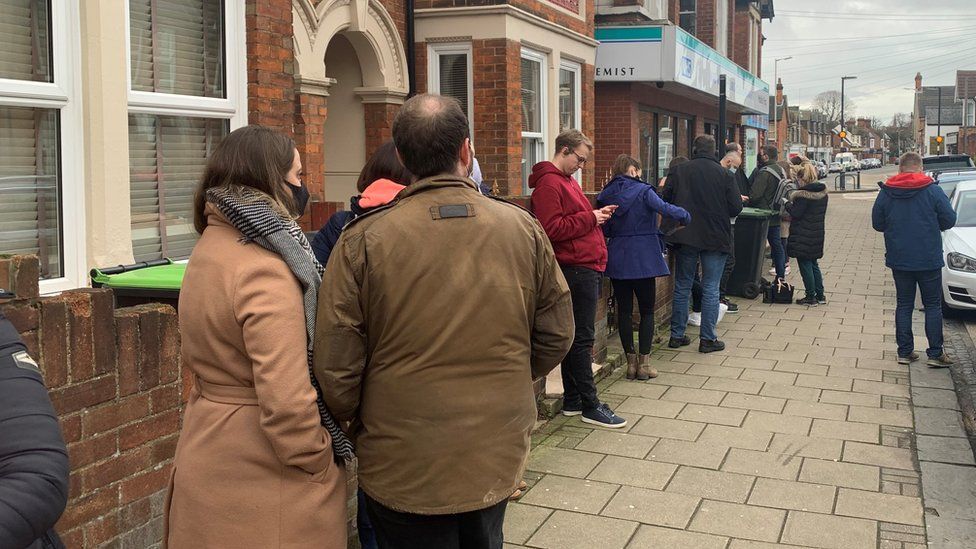 After Boris Johnson announced booster jabs would be offered to everyone over 18 in England from this week, queues have been forming outside vaccination centres. The BBC spoke to those lining up outside a pharmacy in Bedford and at a walk-in centre in Milton Keynes.
'He's struggling to breathe'
Laura Turpie says she decided to get her booster jab earlier as a family member, who is double vaccinated, is "really ill" with Covid.
"He's bed-ridden and he's struggling to breathe," the 39-year-old says.
Ms Turpie was originally not due a booster until January, which would be six months after her second dose, but the wait time has now been reduced to three months.
"We all need it," she says.
"The fact that we can get it early is amazing."
Ms Turpie says the queue has not put her off, explaining: "It's worth the wait and it's a privilege".
'It makes absolute sense to get the third jab'
Alex Kirk and Natasha Doyle had dropped their dog off at a groomers nearby when they saw the queue for boosters and decided to join,
"We couldn't book ours online yet so we thought if there's a chance to get it today we may as well," Mr Kirk says.
"If we want to get back to normal life we need to look at the data, and that is saying the third jab will help us get there.
"If we need to do that to tackle the latest variant it makes absolute sense to."
Ms Doyle thinks it is "incredibly important" to get the booster.
"If we can stand in a queue for an hour and do our bit to get the UK back to how it was then let's do it," the 27-year-old says.
"Both of my parents wanted me to get the booster as soon as I could and I want to protect those people around me."
'It's important to get it as quickly as possible'
Dawn Rodger was keen to get her booster jab "as quickly as possible so there's more chance of enjoying a family Christmas".
The 44-year-old says she was intent on getting her third vaccine before the prime minster's announcement on Sunday.
"I came in last week to see if I could get my booster quickly," she says.
Despite booking an appointment for Tuesday, she decided to queue to get her third jab a day earlier.
"It's important to get it as quickly as possible," she says.
'For my family and everybody else'
Julia Chapman was one of many also queuing at a walk-in centre in Milton Keynes.
"I've come to get my booster jab because of what's been on the news recently," she says.
"I tried to book online, but it was sometime in January, so I decided to come here today.
She says she is "concerned about what's going on" and wants to make sure she is "properly covered".
"It's for my family - and for everybody else."
Related Internet Links
The BBC is not responsible for the content of external sites.