Spanish airline reserves 10 Airlander airships from Bedford-based firm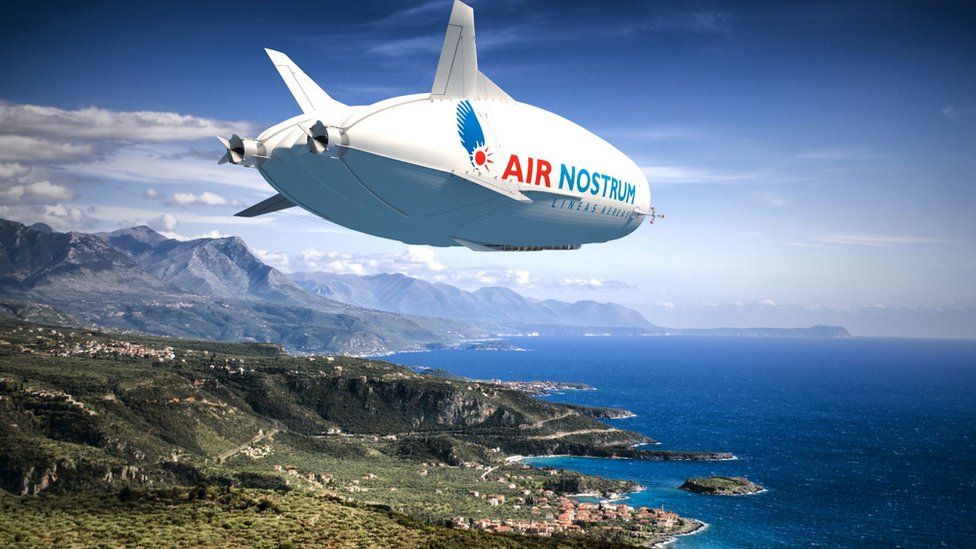 The company behind the Airlander airships said it has received its first commercial order from an airline group.
Hybrid Air Vehicles (HAV) said European-based Air Nostrum Group had reserved 10 Airlander airships for delivery from 2026.
The firm said 1,800 jobs would be created as a result of the interest.
HAV said Airlander 10 will cut flight emissions by up to 90% for journeys across Air Nostrum's regional routes in Spain.
The airships, which stay aloft using helium and electricity, have been commissioned to seat 100 people.
According to HAV's website, hybrid aircraft fly due to a combination of aerodynamic lift (like an aeroplane), lifting gases (like an airship) and vectored thrust (similar to a helicopter).
Airlander generates up to 40% of its lift from aerodynamics by the passage of air over the hull and the remainder from buoyant lift from the helium.
The Secretary of State for Business, Energy and Industrial Strategy, Kwasi Kwarteng said: "Hybrid aircraft could play an important role as we transition to cleaner forms of aviation, and it is wonderful to see the UK right at the forefront of the technology's development."
Carlos Bertomeu, Air Nostrum's president, said: "We are exploring each and every possible way to reduce our carbon footprint.
"The Airlander 10 will drastically reduce emissions and for that reason we have made this agreement with HAV.
"Sustainability, which is good news for everyone, is already a non-negotiable fact in the daily operations of commercial aviation."
Tom Grundy, chief executive officer of Hybrid Air Vehicles, said: "Our partnership with Air Nostrum Group, as the launch airline for Airlander 10, leads the way towards that future.
"As countries like France, Denmark, Norway, Spain and the UK begin to put in place ambitious mandates for the decarbonisation of domestic and short haul flight, Hybrid Air Vehicles and Air Nostrum Group are demonstrating how we can get there - and get there soon."
Related Internet Links
The BBC is not responsible for the content of external sites.