It's the best job on the planet, says new Nasa chief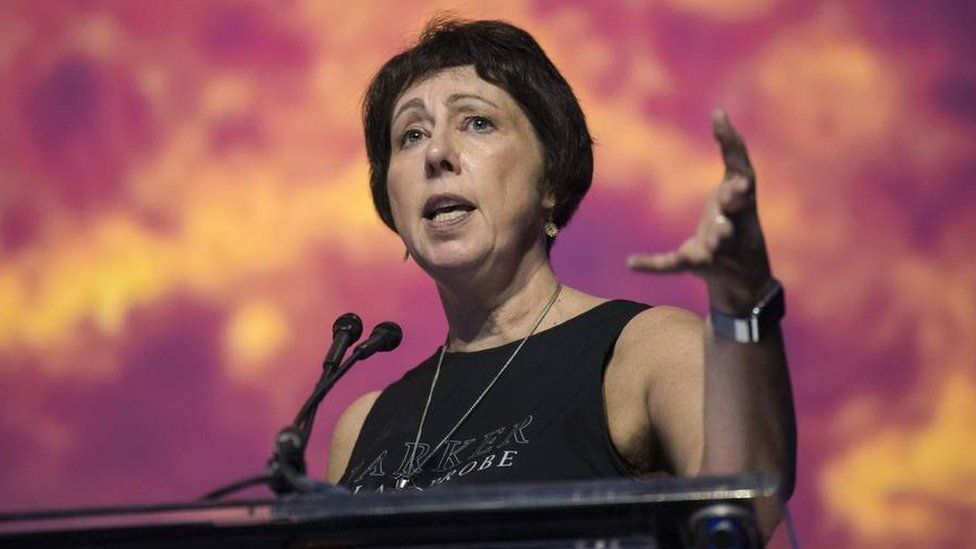 The first British woman to become Nasa's head of science has said "it's the best job on the planet".
Dr Nicola Fox, Nasa's former director of Heliophysics, comes from Hertfordshire and now works in Washington DC, USA.
"It's the role of a lifetime, I could not be more excited," she added.
She said growing up in Hitchin "you don't really dream of working for Nasa, it certainly doesn't seem like it's something that could be a reality."
The National Aeronautics and Space Administration (Nasa) is the US government agency that has overseen the country's space programme.
Dr Fox started her career with Nasa in 2018, in the Heliophysics division, overseeing the agency's efforts to study the Sun and how its constant solar wind affects Earth and other planets.
She said it was a bit of "luck" that got her to Nasa.
"I was at a meeting when I was doing my post graduate work at Imperial College [London] and I went to a meeting in Alaska and I was talking very excitedly about my work and a scientist basically said 'could I interest you in a post doc at Nasa?'
"People say you always have these pivotal moments in your life, that was the pivotal moment and I said 'yes actually I would'.
"Whatever you're interested in, whatever your heart tells you you're interested in - that's what you should do."
Dr Fox said her parents were "completely over the moon" at her new role.
"When I was the Heliophysics director my dad loved to tell everyone 'that my daughter's a director at Nasa'.
"At first I was embarrassed and I would say 'it's not that big a deal, I'm not a director or anything', and then I realised it's a big deal to him, I'm kind of living his dream, I'm working for Nasa."
In 2021, Dr Fox was awarded the American Astronautical Society's Carl Sagan Memorial Award and was the recipient of Nasa's Outstanding Leadership Medal, awarded in 2020.
She said one of the perks of working in space administration is the merchandise.
"I do have a lot of Nasa shirts, it's great, I'm like a kid in a candy store."
NASA has already had a woman in the same role, whose formal title is associate administrator for the organisation's science mission directorate, but Dr Fox is the first from the UK.
Mary Cleave held the post before her, and NASA had two women acting up in the role - Sandra Connelly and Collen Hartman.