Royal Berkshire Hospital give £1m to fight bedblocking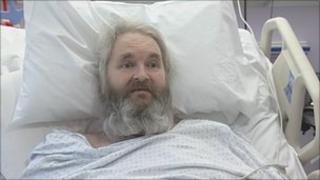 Health trusts in Berkshire have given £1m to three councils to help them put more people in care homes to reduce the number of hospital "bedblockers".
About 40 people who do not need to be in hospital are being cared for at the Royal Berkshire Hospital in Reading.
They are "stuck" because there is nowhere else for them to go.
The hospital trust and the local PCT have handed Reading, West Berkshire and Wokingham councils £1m to share to fund more care home places and nursing.
They said they were planning to pool more money towards external care places in the future.
Royal Berkshire Hospital trust said up to 10% of its 600 beds are usually taken up by patients who do not need to be in hospital.
'Abandoned waiting'
Martin Bullock has been in hospital for 146 days and should have been discharged two months ago.
He needs either a nursing home place or help in his own home.
He said: "I'm going to be still in bed for a bit until I get the use of my legs back properly.
"I'd rather be at home doing that than in here doing it."
Dr Lindsey Barker, from Royal Berkshire Hospital, said: "At any one time we probably have between 40 and 60 patients who need care, but they could be at home with carers or in a nursing home or residential nursing home.
"But they're abandoned waiting here until a place becomes available."
Care home places can cost about £900 pounds a week, while a hospital bed costs more than £700 a day, so it is hoped the initiative will help save the NHS money, David Fenton, BBC South's Health Correspondent said.
He said: "It's very unusual - if not unheard of - for the NHS trusts to give up part of their budget to outside authorities.
"But many local councils are struggling to pay for the nursing home care when they come out."