Reading football fans angry as bus routes axed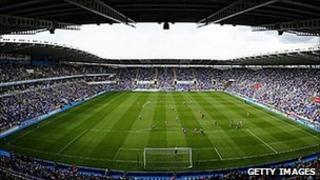 Football fans have voiced their anger at a decision to axe a number of bus routes to Reading's ground.
The services from Basingstoke and Farnborough in Hampshire, and Bracknell and Wokingham to the Madejski Stadium will not operate this season.
The club said the Stagecoach services only attracted limited passengers and there were other transport links.
But fans have argued that the routes have been busy and going by train will cost them three times as much.
'Heavily subsidised'
Fan Daniel Mitchell said: "There were a lot of people using these services, although they suggest it has been running at a loss.
"Now instead of costing about £5 to get to the Madejski it will be more like £15."
Mick Hall, another football supporter, said: "This is going to cause us a lot of extra expense for going by car or by train and bus this season.
"We used to get between 50 to 70 people on our bus from Bracknell."
Reading Football Club said: "[The services] had been very heavily subsidised since their inception in 2007, but the very low number of passengers sadly did not warrant a continued further outlay.
"Train services run from each of these locations to Reading town centre, and with the excellent shuttle bus service from the station to Madejski Stadium, there are still very good transport links."
All Reading buses remain in place for the season, with timetables and fares both remaining unchanged.