Shinfield residents want more time over homes plan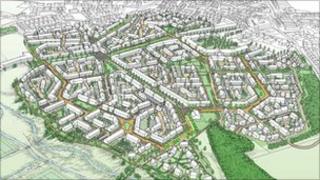 Campaigners fighting plans to by the University of Reading for 1,200 new homes say they have not been given enough time to consider them.
The proposal also includes a new primary school, community facilities and a relief road at the site to the south of the M4 in west Shinfield.
But Shinfield Residents' Action Group (SRAG) says the current infrastructure cannot cope with new homes.
Wokingham council said it had extended the planning application process.
The public consultation started last week and people have until 11 August to lodge any formal objections.
SRAG said there were thousands pages of files outlining the university's proposals and it would need months not weeks to go through it all.
Plans in doubt
The council said: "In allowing 28 days, we have gone beyond the statutory minimum 21-day consultation period.
"The council itself is required to make a decision within 16 weeks and is subject to penalties if this statutory target is not met.
"We have to balance the time allowed for people to have their say with the time needed to consider the representations we receive.
"We do continue to consider responses after the closing date, but need to have a cut off date in order to be able to report to the planning committee."
The council had been drawing up plans for 10,000 new homes over the next 15 years, which included 2,500 earmarked for south of the M4.
But plans have been thrown into doubt after the coalition government abolished Regional Spatial Strategies.
The university is pressing ahead with its own plan.
It said it has spent years consulting over the plan, which will help ease the council's housing needs.
The university is also developing plans for a wind turbine on land next to the M4 in Rushy Mead and has been granted outline planning permission for a science and innovation park in Shinfield.