Reading Buses offers £1 Royal Berkshire Hospital fares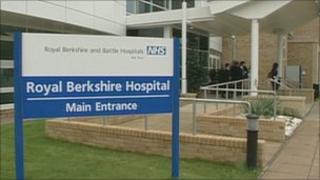 A bus firm is cutting the price of its fares to Berkshire's main hospital as it tries to boost passenger numbers.
Reading Buses is offering £1 tickets on three routes to the Royal Berkshire Hospital, which currently cost £1.70 each way.
The £1 "hospital fares" will run on Premier Routes 9, 22 and 19 until the end of October when it will be reviewed by the firm.
The hospital said it supports any move which encourages public transport use.
A Reading Buses spokeswoman said: "We realise that people need to attend the Royal Berkshire Hospital whether for work, visits or appointments and the £1 fare will hopefully encourage more people to use the bus on these occasions.
"Hospital car parking is £3 for two hours so £1 there and back on the bus will offer very good value for money - without the worry of finding a parking space."
Clive Walsh, chief operating officer of the Royal Berkshire Hospital NHS Foundation Trust, said: "We actively support and encourage people to use public transport whenever possible.
"This new cheaper fare is to be welcomed and we hope many people visiting the hospital will make use of the service."