Father's fury over guilty Berkshire midwife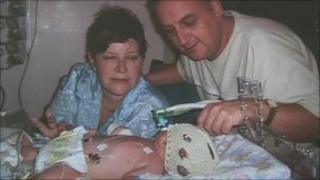 The father of a baby who died in the care of a midwife who was later struck off, said she deserved to lose her job.
Dave Baker and his wife Louise Genery lost their daughter, Lily, in 2005.
Rachel Goode, who worked at the Royal Berkshire Hospital, failed to spot the baby's reduced heartbeat and left the baby in meuconium (faeces) in the womb.
The Nursing and Midwifery Council found her guilty of misconduct and removed her name from the nursing register.
'Headless chickens'
She also made similar mistakes with a second patient and failed to record observations and inform colleagues about two others.
Mr Baker, from Caversham, recalled the day he lost his daughter and said the Ms Goode "didn't recognise any irregular heartbeats at all".
He said: "The labour wasn't coming on quick enough, so she [the midwife] decided to break Louise's waters.
"No water actually came out, all that came out was this thick, black muck [meuconium].
"Unfortunately, Lilly swallowed all this meuconium. All her organs malfunctioned and we found out she was brain dead.
"I actually said to the midwife at the time, 'Are there any problems here?' and she said, 'Oh don't worry, we'd be running round like headless chickens [if there were]'.
"I will never, ever forget those words."
'Public interest'
At the hearing on 19 July, the panel found that all four charges involved "serious failures" to make adequate records and that Ms Goode, 52, was guilty of a "serious breach" of her duty of care to her patients.
Although Ms Goode said she had met objectives set by a supervisor, it was found the level of competence was below the standard of a midwife within her grade.
A spokesperson for the Royal Berkshire NHS Foundation Trust said: "We extend our sympathies to the families affected by this case.
"[We] hope that the action that the Nursing and Midwifery Council has taken, and the Trust's prompt and robust response to concerns about patient care, will reassure them and others about our commitment to offering the best possible care to all of our patients."