Swine flu victim's care criticised at Reading inquest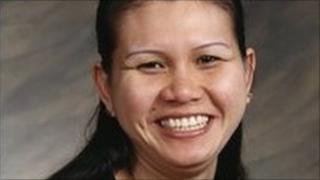 A husband has told an inquest his wife may not have died of swine flu had 999 crews taken her to hospital sooner.
Panumad "Art" Edwards, 31, died at Royal Berkshire Hospital, Reading, in September, of pneumonia complications.
Ricky Edwards said his estranged wife, who had been visiting from her home in Aberdeen, was only taken to hospital during a second 999 call-out.
Coroner Peter Bedford recorded a narrative verdict, saying she died from both pneumonia and swine flu.
Breathing problems
Mr Edwards attended the inquest, in Reading, Berkshire, along with his young son, Alexander.
The court heard Ms Edwards, who had recently moved to Kincorth, was visiting for their son's seventh birthday party when she was taken ill with flu-like symptoms and a fever.
Mr Edwards called the swine flu helpline on 24 September and followed advice given to him, the inquest heard.
She was not prescribed Tamiflu, the drug given to those suffering from the H1N1 virus, but seemed to recover as she rested at his home.
Her condition deteriorated in the following days, and Mr Edwards called paramedics to his home in Reading on 28 September, but it was said Ms Edwards did not need hospital treatment.
Intensive care
Guidelines at the time said only the most seriously ill should go to hospital.
But Ms Edwards - who had no underlying health problems - did not get better and an ambulance was called the next day when she developed breathing problems.
She was given antibiotics and transferred to the intensive care unit, but could not be saved, the court heard.
She died on 30 September.
"When she went down, she went down quickly," Mr Edwards said.
Mr Bedford said: "I acknowledge as a 31-year-old fit lady, Mrs Edwards did not meet the profile of either the very young, or very elderly and frail patient, who might be at risk of this illness.
"But when you have a combination of two very virulent and dangerous infections, H1N1 and streptococcal pneumonia, I think that is the explanation of what must be described as a very, very unfortunate set of circumstances."