Caution for Thames Valley Police laser attack man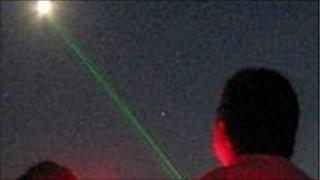 A man has been cautioned by police after admitting shining a laser beam at the Thames Valley Police helicopter.
The incident happened over Halifax Place, Thatcham, in the early hours.
A 37-year-old man from Newbury was arrested on suspicion of endangering an aircraft. He later accepted a police caution.
Incidents of laser attacks reported by pilots and air traffic controllers across the UK have increased from 29 in 2007 to 737 attacks in 2009.
The lasers targeted commercial airliners, air ambulances and police helicopters.