Royal Berkshire Hospital to axe up to 600 jobs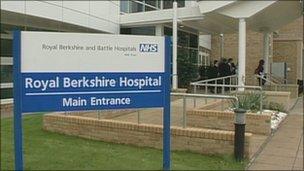 Up to 600 jobs are to go at Reading's Royal Berkshire Hospital (RBH) by 2015 to save £60m, the BBC has learnt.
Chief executive Edward Donald said the hospital still needed to save millions even though funding for the NHS as a whole was being ring-fenced.
He added that backroom posts, including human resources, would be hit hardest, rather than front-line staff.
The Independent Democratic Union (IDU) said it was a "myth" that cuts on this scale would not affect patients.
With some 4,000 staff, the hospital is the town's biggest employer.
Jobs to be cut will be in human resources, IT, facilities and general backroom roles, a hospital spokesman said.
Alistair Maclean, from the IDU, said: "These cuts are far too severe and far too immediate.
"It is clear that this announcement is a result of swingeing cuts that have been made in the health service and is going to have a devastating impact on health service in Berkshire.
"There is a myth that we can make savings without affecting front-line staff.
"In the long-term waiting lists are going to increase and we can all recall a time when patients were lying in corridors and ambulances stacked up outside A&E departments."
Mr Donald said the hospital would be looking at what it could do differently "to get through the same amount of work but with less people".
He added: "It is right and proper that we look at how efficient we are and see whether we can do things differently to make sure that all the funding we have goes as far as it can on front-line services."
Related Internet Links
The BBC is not responsible for the content of external sites.