Anger over newly-opened Reading play area set alight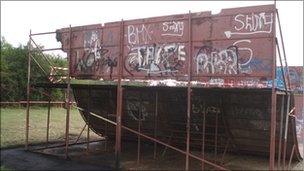 A newly-opened £37,500 children's play area has been vandalised and set on fire by suspected arsonists in Reading.
Vandals ripped up an artificial surface at the Meadway in Tilehurst, and placed it in piping used by skateboarders, before setting it alight.
The cost of repairing the facilities damaged in the incident is estimated to be hundreds of pounds, the borough council said.
A spokesman said the play area was opened last month.
Councillor Chris Harris, Reading's policy advisor for education and children's services, said: "I am appalled by this mindless act of vandalism.
"It is completely senseless and, at a time when there is very little money available to the council to provide valuable facilities for young people like this play area, it puts even greater pressure on the limited funds available."
Tom Stanway, the councillor responsible for culture and sport in Reading, said: "Whilst the perpetrators might have got momentary pleasure from doing this damage, I hope they realise they have blighted the lives of residents, and spoilt the pleasure of those children who wanted to play there today.''
Related Internet Links
The BBC is not responsible for the content of external sites.