Apology over Wexham Park Hospital 'downgrade' remark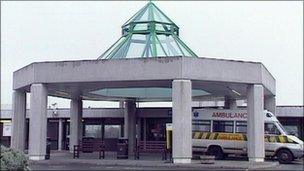 A Berkshire hospital boss has apologised over remarks he made about how Wexham Park Hospital may be downgraded to only have an A&E service.
Ed Donald, chief executive at Royal Berkshire Hospital, said specialist treatment for some life-threatening conditions would be based at Reading.
However, he said his comments that the Slough hospital could not continue as it was may have caused confusion.
Wexham Park NHS chiefs said it was too early to "speculate".
Julie Burgess, chief executive of the Heatherwood and Wexham Park Hospitals NHS Foundation Trust, said: "I can say with complete certainty that any changes we might consider making will be made in full consultation with all our stakeholders, including patients, staff and the local community.
"Any changes to the provision of healthcare must be based on what is best for our patients and the local community, not on speculation.
"I am totally committed to ensuring that this trust continues to meet the needs of our patients and the local community."
She welcomed Mr Donald's apology remarks which she said caused concern among patients.
He had told BBC News: "Heatherwood and Wexham Park are reducing their workforce by some 450 staff this year, not over a three to four-year cycle, this year.
"They're starting to think through 'what's the scale of our operation', it's slimming down.
"Yes, they'll need an A&E department for Slough, but that's all they need."
Royal Berkshire Hospital said Mr Donald was sorry for any confusion caused by his comments.
Related Internet Links
The BBC is not responsible for the content of external sites.