Berkshire knifeman flees after being hit with footstool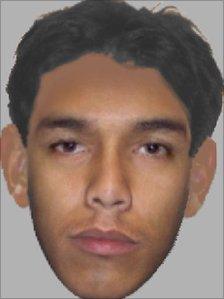 A knifeman who forced his way into a 79-year-old woman's home fled empty-handed when her 71-year-old niece hit him over the head with a footstool.
The pair were watching TV at the home in Northumberland Avenue, Reading, when the man knocked at the door claiming there had been a car accident.
He burst in and demanded money before hitting the 79-year-old in the face.
Her niece saw the struggle and hit the man with the stool. He produced a knife but fled as the niece kept hitting him.
She suffered a stab wound to her hand.
Det Con James Faulkner, from Reading CID, said: "This is a particularly nasty incident which clearly could have been a lot more serious if it was not for the bravery of the two victims.
"One of the victims suffered a puncture wound on her left hand and they have both obviously been left distressed by their ordeal."
The offender is an Asian man, 5ft 7in (1.7m), in his early 20s, with a slim build and dark wavy hair which was a couple of inches long.
He was wearing a beige jacket and dark bottoms and spoke with a local accent.
Related Internet Links
The BBC is not responsible for the content of external sites.