Hawks and falcons used to scare Slough estate pigeons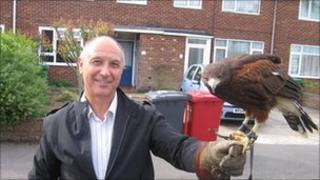 Hawks and falcons are being used to scare away pigeons from the skies above a Slough housing estate.
The pigeons had been annoying residents and causing damage by roosting in eaves at flats in Britwell.
Borough council chiefs are now trying out the birds of prey for a week. They have also installed electronic devices designed to scare the pigeons.
The authority has also urged residents to dispose of food waste and not leave it out in the open.
Trevor Roffe, from the council housing service, said: "Using birds of prey and the electronic scarers is an environmentally-friendly and non-harmful way of frightening the birds away from the area.
"Pigeons may seem like just another local bird but they are messy and can carry mites which cause problems for local people.
"The hawks and falcons do not hurt the pigeons, they just give them a bit of a fright and discourage them from coming back."