'Increased noise' for Heathrow flight path homes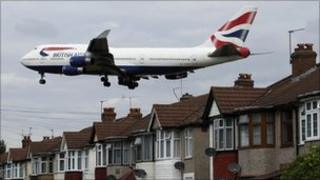 Residents living under a Heathrow Airport flight path in Berkshire are facing increased aircraft noise for the next six weeks.
Airport operator BAA has warned the Royal Borough of Windsor and Maidenhead that the current system of "runway alternation" is being suspended.
This is due to "essential repairs" to the northern runway taxiways, beginning on Monday.
Most Heathrow departures take off in a westerly direction towards Berkshire.
When "runway alternation" is in place, borough residents living under the flight path enjoy a break from aircraft noise after 1500 BST daily - when planes use a different runway, taking off to the east.
But repair works are required on the alternative runway's taxiing area.
Checks revealed some concrete blocks need to be replaced to prevent debris getting into aircraft engines.
'Some respite'
Councillor Phill Bicknell, chairman of the borough's aviation forum, said: "Runway alternation provides a much-needed benefit for borough residents, giving them some respite in the afternoons from the concentrated noise level.
"It is evident by virtue of their letter to our chief executive that BAA acknowledges the benefits, even for short periods, that runway alternation brings to people in the royal borough living under the flight paths.
"I would like to reassure our residents that we will be monitoring the situation closely to ensure that the works are completed on time and alternation reinstated."
BAA said there would be no additional flights before 0600 BST, the council added.
Night-time alternation will remain unchanged.