Baboon saved from Bolivia circus comes to Berkshire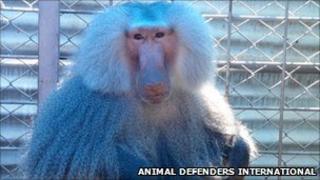 A baboon rescued from a circus in Bolivia is to enjoy retirement at a Berkshire monkey sanctuary.
The Bolivian government handed over Tilin, an 18-year-old Hamadryas baboon, after a campaign by Animal Defenders International (ADI).
The welfare group said its lobbying led to the authorities introducing a ban on animals in circuses after finding "systematic abuse and suffering".
Tilin arrived at a monkey sanctuary in Berkshire on Monday.
Five lions were also handed over and have been rehomed in the US.
'Chained up'
Bolivian lawmakers approved a total ban on wild and domestic animals being used in circuses in April.
Jan Creamer, from ADI, said: "Despite his suffering, Tilin has a gentle, kind personality, is highly intelligent and sensitive.
"He would normally live in the wild in the deserts of Ethiopia, Egypt and Somalia in family groups and the ancient Egyptians referred to his kind as the 'Sacred Baboon'.
"However, poor Tilin has certainly not led a sacred existence up until now, living alone chained up in solitary confinement in a Bolivian circus, where his only companions were the lions in the cage next to him."