Fertility 1st sperm website pair 'named donor'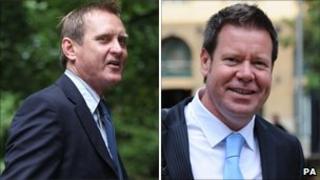 A woman who ordered sperm from an unlicensed fertility firm complained after seeing the anonymous donor's name on his medical tests, a court heard.
Melissa Bhalla-Pentley told Southwark Crown Court Ricky Gage, 49, and Nigel Woodforth, 43, had been unprofessional.
The men, from Reading, allegedly ran the Fertility 1st website and acted as brokers for women trying to conceive.
Both deny two counts of procuring sperm illegally under the Human Fertilisation and Embryology Act.
Ms Bhalla-Pentley is named on the first charge, in which it is alleged the men procured sperm for her between March and June 2008.
The court heard how she had initially paid Mr Gage, of Old Bath Road, Sonning, and Mr Woodforth, of St John's Road, Reading, £530 to receive some sperm.
When she then failed to get pregnant, she paid the firm another £300 and arranged for another donation.
'Serious breach'
In July 2008, she e-mailed the company saying that when a copy of the donor's medical tests were sent to her, the donor's name had been visible "just lined through with a black marker".
Ms Bhalla-Pentley wrote: "This is a very serious breach on your company's part."
When Ms Bhalla-Pentley asked for a refund, Mr Woodforth refused, the court heard.
The men have argued their company was simply an information site which acted as an introduction database, meaning they were not procuring or making sperm available.
On the second charge, Mr Gage and Mr Woodforth are also accused of procuring sperm between October 2007 and November 2008.
The trial continues.