Berkshire dairy farmers drop by a third, figures show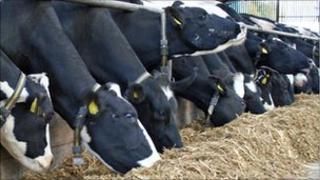 Low milk prices from supermarkets and the cost of investing in new equipment are being blamed for the drop in the number of dairy farmers in Berkshire.
Figures from DairyCo, a milk trade body, show about a third of the county's milk producers have left the industry in the past five years.
In August 2005, there were 35 dairy farmers compared with 24 this year.
Nigel Stacey, from the National Farmers' Union, said supermarket profits were not getting to farmers.
Struggling to survive
"The profits that supermarkets and retailers are making are not being passed back down the line to dairy farmers," Mr Stacey said.
"Dairy farmers are not receiving the reward from the market place that they ought to," he added.
Mike Bowden, a dairy and arable farmer at Brimpton in West Berkshire, said he was struggling financially.
"I am reviewing the situation all the time.
"I don't want to get rid of my cows and do something else but the financial side of it is pushing [me] towards that way and a lot of other people have done that."
Meanwhile, Ken Boyns, director of DairyCo which represents the interests of milk producers, believes people need to buy locally to help farmers.
"Over 40% of our cheese comes from abroad so the price it's coming in at from other countries is absolutely key in all of this," he said.
"Dairy farming is a tough job, probably one of the toughest in farming, its 365 days a year.
"The cows need milking, looking after every single day. It's a tough job where you need good return."