Dog left in France after microchip pet passport fails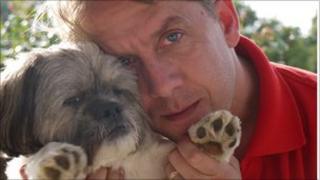 A Berkshire family say they are devastated at being forced to leave their pet dog in France after his pet passport microchip failed.
Matt Roberts and his family returned to Arborfield, near Reading, without their dog Indy because the technology had stopped working.
Indy has undergone surgery costing £1,000 to remove the chip.
If his identity cannot be confirmed it could take up to six months for him to be issued with a new pet passport.
Pet journeys
Mr Roberts had just finished a two week holiday in the south of France with his wife Dorota and six-month-old daughter Harriet when he tried to return to the UK via Dunkirk.
However, when the dogs tried to re-enter the country the scanners could not read Indy's microchip.
The family had spent spent £400 on pet passports for his two Shih Tzu dogs, Indy and Buzz.
Indy will remain in kennels in France unless the manufacturer can confirm that the chip they have removed from him matches the documentation on the pet passport.
However, vets have said that the chip has corrupted and will be difficult to read.
Mr Roberts may have to apply for a new pet passport for Indy or put the dog into quarantine.
He said he was reluctant to do this, and was already spending £15 a night to keep his dog in kennels.
A Defra spokesman said: "Around 100 pets a year have a failed or missing microchip on arrival to the UK.
"In the majority of cases the microchip number can be removed and identified or read by the manufacturer, and the pet eventually allowed to enter."