Complaints spark Shinfield Road traffic light review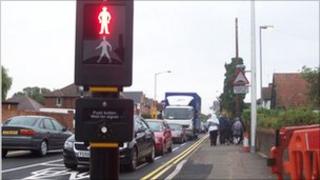 A review of a new traffic light system has been brought forward following complaints about tailbacks.
Reading residents say there have been delays since the lights in Shinfield Road were put in last month. They were installed after a number of accidents.
The council said the lights could be taken down after a six-month review but this has now been brought forward.
Transport chiefs will instead report back to councillors in November with options to improve traffic flow.
An interim investigation has highlighted that improvements could be made to aid traffic flow by widening a section of the carriageway.
Three deaths
This change will be introduced as soon as possible while further interim changes are also being looked into.
Resident Shirley Congira said: "I would like not so many traffic lights.
"We have to get up earlier, it used to take us 15 to 20 minutes to get to school and now it takes over half-an-hour."
Councillor Richard Willis, member for transport at Reading Borough Council, said: "I have listened to the concerns... by bringing the full review forward significantly.
"Officers continue to monitor the phasing of the traffic lights, making adjustments where necessary and I am pleased to note that in recent days the flow is better and queues much shorter."
The traffic system is designed to improve road safety and assist people as they cross the road following three deaths in the past three years.