Jilted man 'bombarded teenager with texts and calls'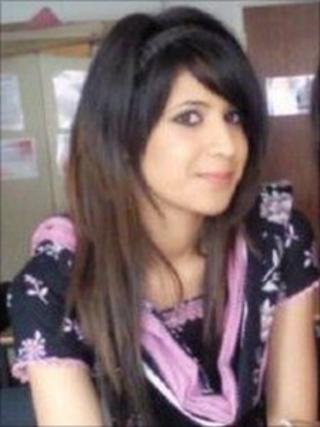 A jilted teenager "embittered by rejection" bombarded his ex-girlfriend with hundreds of calls and texts before murdering her, a court has heard.
Gulamyr Akhter, 19, made more than 600 calls and texts to Asha Muneer, 18, in the two-week period before her death in January, Reading Crown Court was told.
Mr Akhter then lied to police claiming he did not have her number on his mobile, the prosecution said.
Mr Akhter, of Victoria Way, Reading, denies murder.
John Price QC, prosecuting, told the jury that Mr Akhter had two phones he had kept secret from police.
He said the defendant used these phones to harass Ms Muneer and that the handsets could be traced to the location and time of her death in the evening of 18 January this year.
Mr Price said: "He was, the Crown submit, desperate to conceal from the police the frequency of calls that illustrate his obsession with her and his harassment of her when she rejected him."
Mr Akhter is accused of repeatedly stabbing Ms Muneer as she walked through Reading after a shift at a Laura Ashley store, where she worked as a part-time sales assistant.
Prosecutors claim he murdered the A-level student "because he could not tolerate her rejection of him".
The court was read a series of text messages allegedly sent by Mr Akhter to Ms Muneer after she had ended their relationship last July.
One text read: "I'm going to make your life hell." Another said: "The start date is going to start now for making your life hell." A third read: "I wish you go through hell and you die."
Her body was found by a jogger on a footpath next to the River Kennet, near the Madejski football stadium.
A post-mortem examination revealed that she had suffered 25 stab wounds to her head, face and neck.
Mr Price said that on the evening of the killing, Mr Akhter arranged for friends to drop him off near the Brunel Retail Park where Ms Muneer worked.
Matching knife
Earlier, the trial heard how Ms Muneer finished work and was seen on CCTV being followed by a man in dark clothes, carrying a rucksack.
The last sighting of her was at 1830 GMT when she was seen walking towards the underpass where her body was later found.
Mr Price said Mr Akhter's friends picked him up again at 1900 BST from where they had dropped him off and took him to a petrol station where he was seen on CCTV buying a can of petrol.
The prosecution claims he was then driven to a deserted field where he torched his clothes, rucksack and the mobile phone he had used to call his former girlfriend.
When detectives searched his home address they found a set of three kitchen knives which closely matched the murder weapon found near the scene.
Mr Price said: "All this evidence combines together to present a very simple though very dreadful picture."
He described Mr Akhter as being "completely embittered by her rejection of him and simply unable to accept it".
"Gulamyr Akhter set out to find Asha Muneer and then to kill her," he told the court.
The trial continues.