Berkshire health workers killed in Peruvian air crash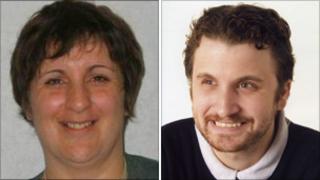 Tributes have been paid to two Berkshire trust health workers who were among four Britons killed in a small plane crash in Peru.
Gayle Callow, 34, and Andrew Brown, 30, died when the aircraft came down on Saturday during an emergency landing.
The pair, who worked for Berkshire Healthcare NHS Foundation Trust, had been were travelling to the ancient Nazca Lines ground markings.
Warren Denham and Alastair Rowe, both 34, also died along with the pilots.
The plane is thought to have suffered engine trouble after taking off from the local Maria Reiche airport en route to the popular tourist destination.
Peruvian police said it had crashed in a field as the Peruvian pilot and co-pilot attempted an emergency landing.
'Greatly missed'
Philippa Slinger, chief executive of the health trust, released a statement earlier and colleagues were being comforted.
"We are deeply saddened by their loss and our thoughts and condolences go out to their families, friends and colleagues," she said.
Ms Callow, a former nurse who worked in the east of the country, became the trust's clinical change transformation lead in 2007.
"Her enthusiasm, knowledge, commitment and willingness to roll her sleeves up and get the job done is a credit to us all and the office and team will be the lesser for not having her around," the statement added.
"Gayle was one of those memorable people that will leave a lasting impression."
Mr Brown, who had been employed with the trust since 2002, worked as a system administrator.
"Within a year he quickly showed his potential to lead the team in implementing various systems including substance misuse and other systems," the trust said.
"Andrew recently took on the mantle of leading the building and testing of the PCT's RiO Solutions and his technical knowledge, good humour and calm, quiet and controlled manner will be greatly missed."
In its website advice to Britons thinking of travelling to Peru, the Foreign Office warns there have been a number of accidents involving aircraft flying over the Nazca Lines.
The lines, believed to have been etched by indigenous people centuries ago, are a popular destination for tourists and are only fully visible from the air.