About 100 beds could go at Wexham Park Hospital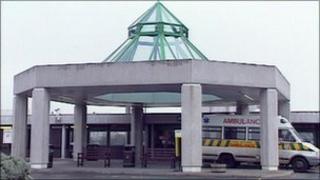 About 100 beds could be cut at Slough's Wexham Park Hospital by the end of the year, the BBC has learned.
Last month it was announced that the cash-strapped trust which runs the hospital is to receive an £18m loan from the government.
Heatherwood and Wexham Park Hospitals NHS Foundation Trust said a reduction in the number of beds had always been part of the turnaround plan.
Cuts would only be made once services had been made more efficient, it added.
The trust has previously said it plans to reduce its workforce by 450 staff this year.
It was unable to confirm the exact number of beds it would cut, but the union Unite said it understood it to be about 100.
More day surgery
In a statement, the trust said: "We have always been very clear that there will be a reduction in the trust's bed numbers as we implement our turnaround plan.
"Operating our services more efficiently and effectively will naturally lead to a reduction in the number of beds and staff needed to run the services.
"We have been focusing on improving clinical service efficiency, which at the same time aims to improve the patient experience.
"We are increasing the number of operations that are carried out as day surgery procedures, which results in the need for fewer beds.
"We are also streamlining our discharge processes, which will ensure that there are no unnecessary delays and patients can go home from hospital as soon as they are fit to do so.
"Service improvements such as these are already resulting in the need for fewer beds, and further improvements will reduce the numbers needed in the future.
"We will only reduce the number of beds in the trust as the plans to make our services more efficient are implemented."