Soldier killed 'on searched road'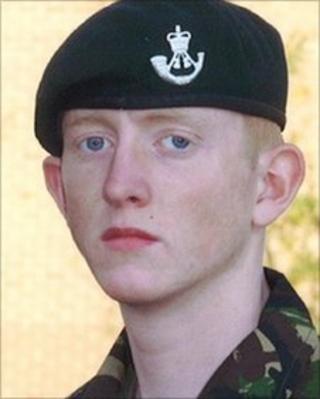 A 19-year-old soldier was killed in Afghanistan by a roadside bomb planted just off a track that had already been searched for devices, an inquest heard.
Rifleman Cyrus Thatcher, of 2nd Battalion The Rifles, died on patrol in Helmand province on 2 June 2009.
He stepped on an improvised explosive device (IED) and was killed instantly.
Coroner Peter Bedford told the hearing at Newbury Town Hall that Rifleman Thatcher was unlawfully killed while on active service.
The inquest heard that Rifleman Thatcher had been part of a group sent to escort an American IED disposal team back to base.
Sgt Leon Smith, who was injured by the blast, said the track had already been Valloned - searched with a Vallon metal detector - so was expected to be clear.
He said: "I heard and felt an explosion about three or four feet from where I had last seen him. It blew me off my feet.
'Good man'
"I was on the floor and the next thing I remember was there was a pool of blood on the floor coming from my face, dust everywhere."
He said it was possible Rifleman Thatcher had stepped on a point that had not been Valloned.
He told the soldier's parents: "Your son was a good man and I just want you to know he didn't suffer at all."
A post-mortem examination found that Rifleman Thatcher died as a result of devastating complex injuries mainly to the lower part of his body.
Giving his verdict, Mr Bedford said: "We can be pretty confident that this ... device [was] placed just off the side of the track and that it would have been detected if the Vallon had moved over it, but as the instruction was to clear the track it would not have been detected."
He told the soldiers: "It's very humbling to read and learn the type of things you do as part of your day-to-day duties."
Speaking after the inquest, Rifleman Thatcher's parents Robin Thatcher, 50, and Helen Tym, 49, said: "Before Cyrus's death it was beyond imagination that it was possible to feel as sad as we do and we simply can't see the next 16 months being any easier."