Soldier killed when detectors failed to find device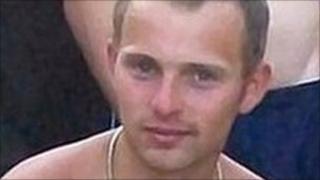 A Berkshire soldier was killed by a roadside bomb in Afghanistan when metal detectors failed to identify the device, an inquest has heard.
Rifleman Daniel Hume, 22, of 4th Battalion The Rifles, died in an explosion while on a foot patrol near Nad-e-Ali in Helmand Province.
He was one of eight soldiers killed between 9 and 10 July that year.
Coroner Peter Bedford recorded a verdict of unlawful killing while on active service.
Rifleman Hume, of Maidenhead, was providing flank protection to two Mastiff vehicles delivering a spare generator and stores to a patrol base when he was killed, the inquest at Newbury town hall heard.
Soldiers carrying Vallon metal detectors had already searched for improvised explosive devices (IEDs) along the route, but the Vallons did not alert them to the device that killed Rifleman Hume.
The detectors alerted the soldiers to metal objects - but most were bottle caps, the inquest was told.
Cpt David Hirst gave expert opinion at the hearing, saying the Vallons might have missed the IED because there was not enough metal in it, or the setting of the Vallon was not high enough to detect it.
Another soldier, L/Cpl Thibault Grand, told the hearing: "He [rifleman Hume] was walking towards the Mastiff, which was about to stop, when there was an explosion.
"He was struck in the head by some armour that came off the vehicle."
Also giving evidence, Cpl Gary Brackley admitted he was surprised by the explosion as the vehicle was passing through a junction that had just been cleared.
"I strongly believed at that point that junction was clear. There was nothing to make us believe there was anything there."
'Up-and-coming star'
Sgt Stephen Newing, who was seated on top of the Mastiff that ran over the IED, said: "The vehicle seemed to jump up in the air. I was thrown up in the air and landed back on the vehicle and at that point realised there had been an explosion.
"Rifleman Hume was about one metre away from the vehicle."
He told the inquest that although he did not know Rifleman Hume, "everyone sang his praises".
"He seemed to be an up-and-coming star."
Post-mortem tests revealed Rifleman Hume died from injuries to his head and neck and that he would have been killed instantly.
Mr Bedford said: "I make no criticism of the team because it seems to me the obvious explanation for why it [the IED] was not identified was because the Vallon did not sound the alarm [due to] either a very low metal content and/or the setting of the Vallon was not sensitive enough to pick it up."
He accepted there was a need to balance setting the metal detectors very high so they would pick up as much as possible against the need to carry out operations as quickly as possible to minimise risk to the troops.