Asha Muneer murder trial jurors shown where she died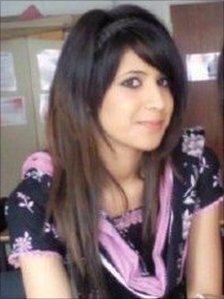 Jurors in the trial of a man accused of murdering Berkshire teenager Asha Muneer have been taken out of the courtroom to see where she died.
Gulamyr Akhter, 19, is accused of repeatedly stabbing A-level student Miss Muneer, 18, as she walked home from work in Reading in January.
She was found stabbed on a riverside footpath near the Madejski Stadium.
Mr Akhter, her former boyfriend of Victoria Way, Reading, is on trial at Reading Crown Court but denies murder.
Jurors were first taken to the Laura Ashley store where Miss Muneer worked part-time as a sales assistant, and from where she had been walking home when she was killed.
Police pointed out CCTV cameras that had caught the student on film as she left work, and a man who joined her there.
The jury was then taken to the nearby Kennet Island housing development.
CCTV footage previously played to the jurors showed pictures of Miss Muneer at the site with a man that prosecutors say was Mr Akhter.
The prosecution team says Mr Akhter later set fire to the clothes he wore to carry out the killing.
They claim that in the ashes of the bonfire, police found the charred remains of a mobile phone identical to one they say they can prove the defendant used that night, close to the spot where Miss Muneer was killed.
Related Internet Links
The BBC is not responsible for the content of external sites.