How police caught Bracknell sex attacker Terry Bryant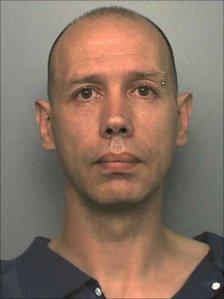 Terry Bryant abducted and sexually attacked teenage girls, threatening one of them with a gun if she did not comply with his demands.
He caused fear among the community of the Berkshire town of Bracknell, but his "reign of terror" is now over after he was handed an indeterminate jail sentence.
Yet despite overwhelming evidence linking him to the crimes, he denied ever being involved, until eventually pleading guilty.
Detectives said Bryant was clever, he was forensically aware, but he was not able to hide.
It was down to a split-second of CCTV footage, capturing his blurred Toyota Celica with its distinctive wheels, that helped catch him in May.
Footage of him at a cash point machine, wearing jeans with a sewn-up tear in them, as described by one of his terrified teenage victims, also proved invaluable.
And, in what was to be a crucial breakthrough, a tiny memory card, spotted on the floor of his mobile home by police after he had been arrested, hiding images of the girls he assaulted and pictures of himself.
Det Supt Rob Mason, of Thames Valley Police, who led what was to become Bracknell Forest's largest police operation, said the success in catching Bryant was due to the strength of evidence from his victims.
"They were absolutely incredible, their bravery, their recollection of facts have been of immense benefit to the investigation," he said.
"They have been able to recall things, really significant and it's incredible, now we know where the offences occurred, we know who Bryant is, we know how accurate the information was."
Two of the girls he abducted and sexually assaulted managed to convince him they would not tell police they were attacked and he even dropped them back near their homes. The other managed to escape.
Their descriptions of the 41-year-old matched and he even used the same grey beanie hat to obscure their views.
Through the descriptions of his third victim, police were able to plot her route home and identify a number of cars.
After accessing CCTV footage, and using descriptions that it had a rear alloy wheel, they singled-out his car.
More than 150 residents packed out a police meeting at Bracknell Leisure Centre when Thames Valley Police launched a man hunt.
Officers were following up about 800 leads but one late-night call proved invaluable.
The caller named Bryant and they described his smell as detailed by the girls, but crucially said he lived in "an old converted mobile library".
Detectives had never revealed the location of the attacks and the call led them to him.
"He was really quite clever in what he did," Det Supt Int Mason added.
"He used information he got from the girls to have some sort of psychological hold over them and this coerced them or forced them in agreeing with what he wanted to do.
"On his arrest we were able to decipher that his car was potentially in the vicinity when the third attack occurred, because his car was quite distinctive.
"Ultimately and probably most crucial is the recovery of the memory card.
"When that was analysed it contained images of Bryant, also images of the girls that he had abducted."
On the memory card were also unrelated indecent images of children, which were also found on his laptop.
Det Supt Int Mason, of Thames Valley Police, added: "Bryant was really quite clever in the way he controlled his victims, he threatened them, he had a power over them and if that didn't work he used a weapon to threaten them.
"I genuinely believe the girls feared for their life when they were with him.
"Terry Bryant is an incredibly dangerous person... we are much safer with him behind bars."
Related Internet Links
The BBC is not responsible for the content of external sites.