Asha Muneer's ex-boyfriend denies killing her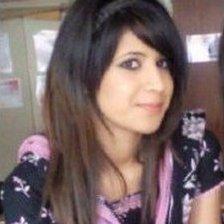 A jilted teenager accused of stabbing his ex-girlfriend to death has denied killing her, saying he was "shocked and devastated" by her murder.
Gulamyr Akhter, 19, is accused of repeatedly stabbing A-level student Asha Muneer, 18, as she walked home from work in Reading in January.
She was found with more than 30 stab wounds on a footpath by the River Kennet, near the Madejski Stadium.
Mr Akhter, of Victoria Way, Reading, is on trial at Reading Crown Court.
He told the jury that he had arranged to meet Ms Muneer at her work place on the night she was killed.
He said she had told him she wanted to pay back £400 of the £800 she owed him at the time.
But, he said, she had left without seeing him and the first he knew of her murder was when police arrived at his home in the early hours of the following day.
Giving evidence in his defence, Mr Akhter told the jury: "I feel devastated and devastated about myself that I am getting wrongly accused of something I ain't done."
Asked by his counsel Malcolm Swift QC if he killed Ms Muneer, he replied: "Absolutely not."
Mr Akhter said he and Ms Muneer had been together since 2009.
Describing the nature of the relationship at the time of her death, he said: "We were still together, but the relationship was on and off."
He said they had arguments, describing one incident in a park in July 2009.
"I got quite angry and slapped her," he said.
"She punched me, it hit my head... I slapped her once or twice again. We just got into a little fight."
On the night she died he said he was dropped off by friends, but she did not turn up.
"I was vexed at the time," he said. "There had been a few occasions, she told me to meet her at some place and she would not turn up. I was asking her for the money and was angry she had not turned up."
He told the court he was then picked up by friends and they smoked cannabis in the car.
Mr Akhter said the first time he heard about Ms Muneer's death was the next day.
He said: "I was just completely shocked. I was smoking cannabis before they came. I just could not get my head around it."
Asked why he lied to police telling them he had not seen Ms Muneer for a long time and had not been out during the evening, he replied: "I was paranoid smoking cannabis.
"If I told them the truth, I thought I might get the blame for it."
Related Internet Links
The BBC is not responsible for the content of external sites.